In the south-east of the city of Zagreb lies The Garden Brewery – one of Croatia's leading craft breweries and a prominent customer of Simpsons Malt products for a number of years now.
Heading up brewing operations there is Pete Vick who, after spending 18 months at the brewery a few years ago, returned in March 2020 when the Head Brewer vacancy arose, following two years in the same role at Brick Brewery in London.
In this Q&A, Pete talks about his career in the brewing industry from getting into homebrewing while working in a bar in Bermondsey, to spending some time brewing in Greenland, before chatting in depth about his role at The Garden, his hopes for the future and, of course, there's a little bit about his favourite malts, too.
How did you start out in the brewing industry?
Like many people, I was a homebrewer. I was doing a Masters Degree in Political Philosophy at Sussex when I was 23 and I'd always made wines and ciders as my grandparents and parents were quite into that side of things, but no so much beer. While I was studying, I was looking for a part-time job and I stumbled into a job at a pub called The Dean Swift in Bermondsey, which is just off the Bermondsey Beer Mile. They gave me the job based on my hobby of making wine and cider and soon afterwards, I was brewing beer.
I'm from the West Country so I was always a cider guy – I'd never really been a beer drinker – and working at The Dean Swift showed me a side of beer that I hadn't seen before. There were all of these amazing styles which, up until that point, I was totally oblivious to, so I fell in love with the product and me and a colleague there decided that if we could make cider and wine, we could give beer a go too.
So we found a load of homebrewing equipment for sale on eBay and made the eight-hour journey to Scunthorpe to collect it, then kitted out the my friend's basement and started making some substandard homebrews! But then we started getting really into it, brewing every week. This was around 2013 when a lot of small breweries were popping up in south London, so I then started to hassle people until I got a job basically.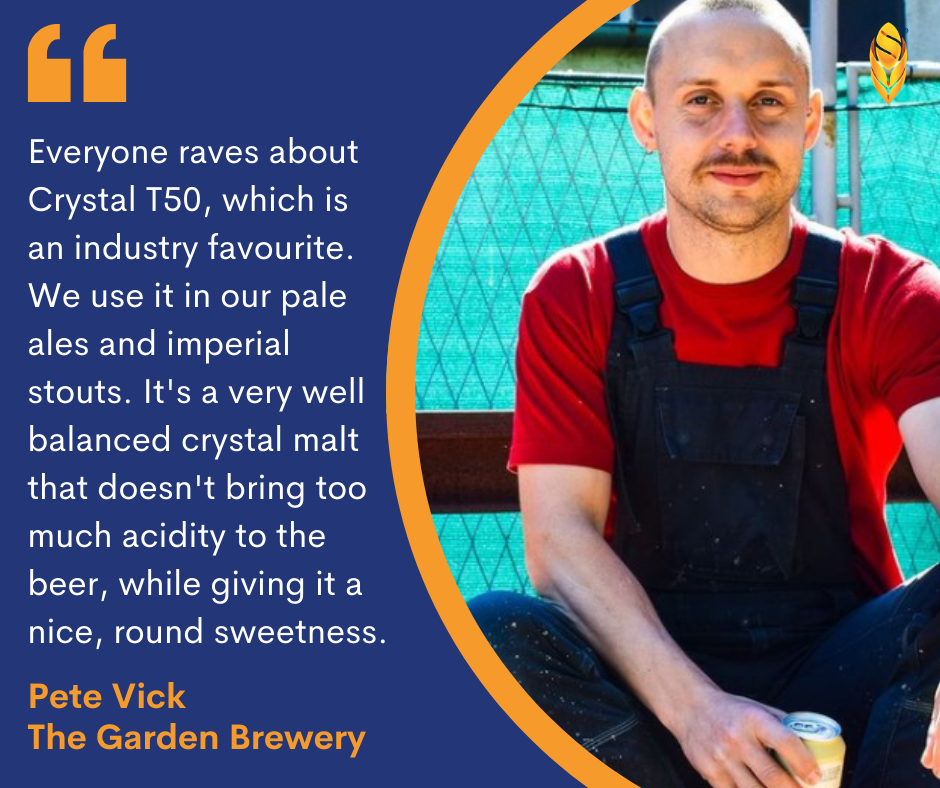 Which breweries were you able to gain your experience at?
I got a part-time assistant role at Belleville Brewing Co. initially and given it was at point when a lot of new breweries were opening up, I cobbled a living together by working days at Brick Brewery, Hackney Brewery, Belleville Brewing Co., Brockley Brewery and London Fields. So I was dotting myself around these breweries and seeing how people were doing things differently and, as a result, I picked up a breadth of experience.
How did you career develop from there?
Well, I did my days at different breweries for two or three years, and then I started to get itchy feet. I'd been in London for a while at that point and wanted to see some more of the world, so I put an advert on the SIBA classified page and I ended up going to Greenland for a little while. There was an Icelandic guy who had purchased an out of use brewery on the southern tip of Greenland and was trying to get it running again, so I spent six months there with an American brewer there renovating a lager brewery, which was interesting to say the least!
After that, I moved to Spain – a little brewery in Catalunya – and then I saw an advert for a brewery opening up in Zagreb. It was The Garden and they were looking for a brewer at the time, so I basically hassled them into finding a temporary role for me as they were setting up. I came over here in 2016 on a three to four-month contract. That ended up being 18 months but, by the end, my progression had stalled slightly so I accepted a job offer to go back to Brick Brewery in London as Head Brewer, at a time when they were expanding.
I was a little reluctant to come back to London to be honest, but the experience sounded like a really good one. I had a really successful couple of years there and by the time I'd finished my two-year contract, some things at changed at The Garden and they asked if I would like to return as Head Brewer, which I did.
How has it been since you returned to The Garden?
Well, it's been an interesting period because I returned to The Garden in March this year, so I landed in Croatia just as the pandemic was starting with all of the uncertainty that accompanied it. So, it hasn't quite been business as usual and we've not been able to brew what we traditionally would.
We run music festivals on the coast here so in the middle part of the year, we tend to brew a lot of pilsners and easy drinking pale ales, which are consumed by the festival goers. This year, the festivals didn't happen and the capacity that would've been used to brew those has been put into brewing a lot more specials. We've put out so many specials this year I can barely count.
What styles would you say The Garden was renowned for?
I suppose we have reputation for stouts – we brew a lot of imperial stouts throughout the year which have taken us quite far and wide in terms of export. We've also been using the extra time not brewing pilsners and pale ales to develop some of our hoppy beers. But our stouts and sours are what we're known for outside of Croatia, whereas in the country we sell a lot more of our conventional core range: pilsners, pales ales and IPAs.
How did you first come to know about Simpsons Malt?
Back in 2013, everybody seemed to be using a mix of all kinds of different malts and in the early days, I certainly used a lot of Simpsons speciality malts because they'd always had a really good reputation. However, I'd never really used Simpsons base malts until I got to The Garden the first time around as our Head Brewer was a real advocate of Simpsons. We started using everything Simpsons at The Garden through distributor Hopsi and when I got to Brick, I moved everything onto Simpsons there as well.
Do you have a favourite malt of ours?
Everyone always raves about the Crystal T50, which I think is an industry favourite. We use it in our pale ale and the colour it helps to give it is lovely. We also use it in our imperial stouts alongside Caramalt and Crystal Dark in a blend. It's just a really nicely balanced crystal malt. I don't find that it brings too much acidity to the beer and it's just got a really nice, round sweetness to it. Our packaging manager eats it for breakfast, along with the Golden Naked Oats. We also really like the Aromatic malt, which is a really strong component of the imperial stouts that we make. We use about 15% of Aromatic malt in our imperial stouts and we just feel it gives a really nice round fruitiness to the beer. As for the base malts, they're great as well and have given us greater consistency, while the extract on them is fantastic.
How is The Garden Brewery positioned within Croatia and abroad?
We aren't quite the biggest craft brewery in Croatia, but we're almost there. We're probably the biggest craft brewery who are putting out a breadth of styles.
What do you love about living in Croatia?
I love it out here. From a personal perspective, the quality and accessibility is really good in terms of fresh produce. Zagreb has got multiple open air markets and it's really nice to be able to use these fresh products in our beers – but also at home too. Life's a little bit slower here and you can get out into nature almost immediately as Zagreb is built on the side of a mountain. We've also got a great coastline that you can get to in about an hour-and-a-half.
What's the craft beer scene like in Croatia?
it's growing and it's getting better. It's not really comparable to the British craft beer scene. The number of craft breweries has been steadily increasing here over the past four to five years, while the quality is also coming on leaps and bounds. It's a nice scene too as it's not too big and without being negative about the UK scene, it's small and new enough where people working within it are still excited about it and aren't too jaded or cynical about the industry, so that's really nice.
What's next for The Garden Brewery?
Like every craft brewery, we've got ambitions to grow and we've done that already over the past year or so, despite everything going on. We're currently completing plans to expand the footprint of our current brewery quite significantly. We got a new canning line from Canada at the end of the summer and a large centrifuge, so we're at the end of the beginning of this expansion process. So we're hoping to expand our output significantly in 2021 and we're also at the beginning of starting a barrel project in earnest. Hopefully we'll also be brewing plenty of pilsner for festivals once everybody's received a vaccine!
—
For more information on The Garden Brewery, visit their website HERE.
You can also following The Garden Brewery on social media:
Facebook: The Garden Brewery
Twitter: @GardenBrewery1
Instagram: gardenbrewery
If you're not yet a customer but are thinking about becoming one, find out more about our quality malts, or get in touch with our helpful order team.