In late January 2022, The Borders Distillery, Simpsons Malt Ltd and 12 farming businesses in the Scottish Borders formed Borders Growers & Distillers – a long-term partnership showcasing traceability of the malting barley supply chain from seed to spirit.
The 12 growers – all of whom are within a 30-mile radius of The Borders Distillery (see map below) – will supply high-quality malting barley to us here at Simpsons Malt, and we will in turn move, store and then produce distilling malt and subsequently deliver it to The Borders Distillery in Hawick.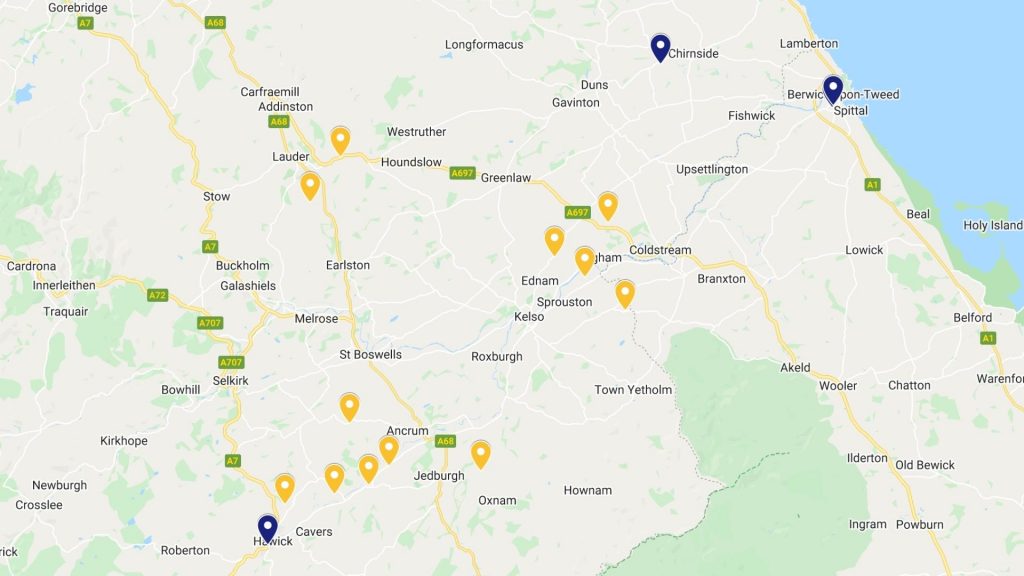 (Navy markers highlight production and storage sites; yellow markers highlight farms).
Over the course of the next 12-18 months, we'll be giving you an insight into the traceable supply chain of the Borders Growers & Distillers in a video series called 'From Seed To Spirit'.
We'll be spending much of the early episodes with grower Andy Baird on site at Harpertoun Farm near Kelso in the Scottish Borders, track the growth of the barley throughout the season.
After harvest, we'll then spend time at our Craigswalls Grain Store, where the barley will be stored until it is ready for malting at our Tweed Valley Maltings.
We'll then go through the malting process and the subsequent delivery to The Borders Distillery.
Episode 1 – Seed Delivery Day
In this episode:
We're introduced to Andy Baird of Harpertoun Farm, one of 12 farms that are part of Borders Growers & Distillers.
Harpertoun receives its spring barley seed delivery from our agricultural merchanting division McCreath Simpson & Prentice.
Andy chats about what makes Laureate a great spring barley variety to grow.
Episode 2 – Sowing Laureate Spring Barley
In this episode, Andy chats about:
The growing conditions on the day the Laureate is being drilled.
The mechanical aspects of the seed drill, the seed rates and how many plants it is hoped they will get.
Experimenting with cover crops on other fields and how this is seen as a way of farmers operating more sustainably moving forward.

Episode 3 – Crop Nutrition
In this episode, Andy chats about:
The progress of the Laureate spring barley one month after it was drilled.
Crop nutrition and the challenges being faced by farmers currently due to the fertiliser market situation.
How grass seed has been under-sown in one of the fields of Laureate and the impact that will have.
Episode 4 – Crop Protection
In this episode, Andy chats about:
The general progress of the Laureate spring barley and how weather conditions have impacted the ability to apply crop protection products.
Awns beginning to appear on some of the plants and a focus on barley yellow dwarf virus (BYDV).
How wide grass margins are encouraging natural predators such as ladybirds to keep disease pressure down.
Episode 5 – Countdown To Harvest
In this episode, Andy chats about:
When he is predicting that the Laureate spring barley will be harvested.
The impact of the recent heatwave on the growth of the crops.
The exceedingly dry season, comparing this year to what is considered an average year.
Episode 6 – Laureate Spring Barley Harvest
In the final episode with grower Andy Baird, he chats about:
The challenges faced throughout an incredibly dry growing season.
His overall happiness with the Laureate spring barley crop.
His delight at being involved in a local supply chain with us and The Borders Distillery.
Episode 7 – Storing Malting Barley
In episode seven of our Seed To Spirit series, we're at our Craigswalls Grain Store where Quality Manager Cole Mather talks about:
Harvest and the barley intake process, explaining our quality parameters.
What happens when the barley is in its designated storage shed.
When the barley will be ready for malting at our Tweed Valley Maltings.
Episode 8 coming soon…
Subscribe to Simpsons Malt TV!
Want to watch more videos? If so, please head to our YouTube channel.