At Simpsons Malt, we endeavour to ensure an excellent delivery service for our customers and we work with several third-party haulage companies who deliver our products.
We're always looking for ways to improve our customer service and, recently, we added a label onto our pallets with a QR code asking our customers to rate their delivery.
This QR code also appears in the top left-hand corner of each customer's delivery/order note.
Once the QR code is scanned with a mobile device's camera, it goes through to this Google Form, where a series of short questions will ask the customer about the quality of their delivery, from the appearance of the pallet(s) upon arrival to the customer service displayed by the driver.
The quick-fire form, which covers bagged and bulk malt deliveries, as well as deliveries made by our agricultural merchanting division McCreath Simpson & Prentice to its farming customers, should take no longer than one minute to complete.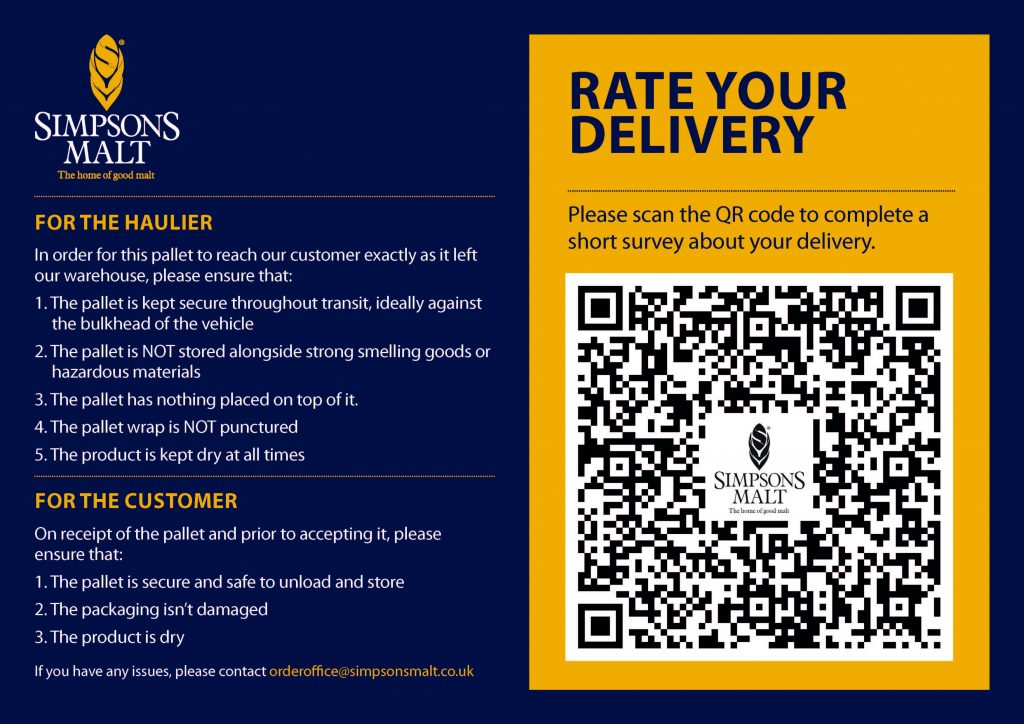 By completing the form, it will allow us to collate data and assess any issues that there may be in the delivery network, whether they be with a particular haulier or in a specific geographical area, which we can then look to resolve.
In order to save on the amount of labels used, for customers that receive multiple pallets in one delivery, this label will appear on one of those pallets.
It's also important to note that if customers have a major issue with a delivery that requires assistance, they should still get in touch via our usual channels by contacting our Order Office team at orderoffice@simpsonsmalt.co.uk.
More from Simpsons Malt
If you're interested in finding out more about our malts or trying them for yourself, then get in touch with our order office team today or contact us on Facebook, Twitter or Instagram.