Production Manager Jonathon Bainbridge has been working at Simpsons Malt since 2014, starting out at our Tweed Valley Maltings in Berwick-upon-Tweed – where he grew up – before making the move down south to our Tivetshall St Margaret Maltings in Norfolk.
In this Q&A, Jonathon talks about doing a bit of everything when he first joined the company, the big decision to up sticks and move to Norfolk and what a day in his current role is like.
Hi Jonathon. When did you start working at Simpsons Malt and what drew you to wanting to work for the company?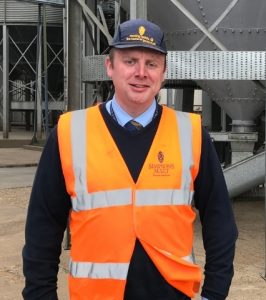 I started in May 2014 in what was a temporary role at the company's Tweed Valley Maltings working on barley intake. The man who started my career was Rob Goudie (now Production Manager at the company's agricultural merchanting division, McCreath Simpson & Prentice). He invited me for an interview on a Monday and by the Wednesday, I was having an induction and straight into Bay 10 on a broom and shovel! There was no job I wouldn't have been prepared to do as I wanted a job in this sector, which stemmed from my Dad and Grandfather – both of whom worked at the Tweed Dock.
Among my Dad's roles were loading and unloading barley and fertiliser boats, while my Grandfather worked at the dock from 1937 as a 15-year-old until practically 2000, long after he retired. He was on the board at W.N. Lindsay Ltd (the company that Simpsons Malt acquired in January 2021) and was involved in trading with Simpsons Malt over many years. So growing up, I knew that if I wasn't going to work at the Tweed Dock, then it had to be at Simpsons Malt. That has always been my ambition.
You can read more about the company's link with the Tweed Dock by watching the video below:
What did you first role all involve doing?
When I first started, we were preparing empty sheds for the upcoming harvest and after a month or two of that, I moved onto assisting at the Water Treatment Plant, cleaning membranes and washing the yard. I also worked on barley intake, the conveyers, as well as at Glen Ord, our peating plant – so pretty much whatever needed to be done, I had to do, which was great for me.
You started at our Tweed Valley Maltings, but now your down at Tivetshall Maltings – how did that move come about?
Honestly? I needed a job! I was only temporary at TVM and wasn't guaranteed a full-time job after my harvest contract expired. I was in the canteen one afternoon and saw an internal post for a position in the Roast House at Tivetshall. I remember thinking about advice given to me by my Grandfather Bewley when I was young: 'Say yes to every opportunity and give it a go because you never know where it might lead you'.
After speaking to HR, I think they were surprised that a northerner wanted to move south, but that was it! I had a sports bag of clothes and a pair of boots and was picked up at Attleborough train station by a really great guy and Site Manager Gary Day. That was on the Sunday and I started on the Monday at 6am, initially on a four-week trial. The rest, as they say, is history and I'm so glad that I listened to my Grandfather's advice!
You started working in the Roast House at Tivetshall, but what is your role now?
I'm the Production Manager for our barley intake, our Fersfield grain store – which is about ten miles from the maltings – and malt outloading. So, this incorporates a chunk at the start and a chunk at the end of the process.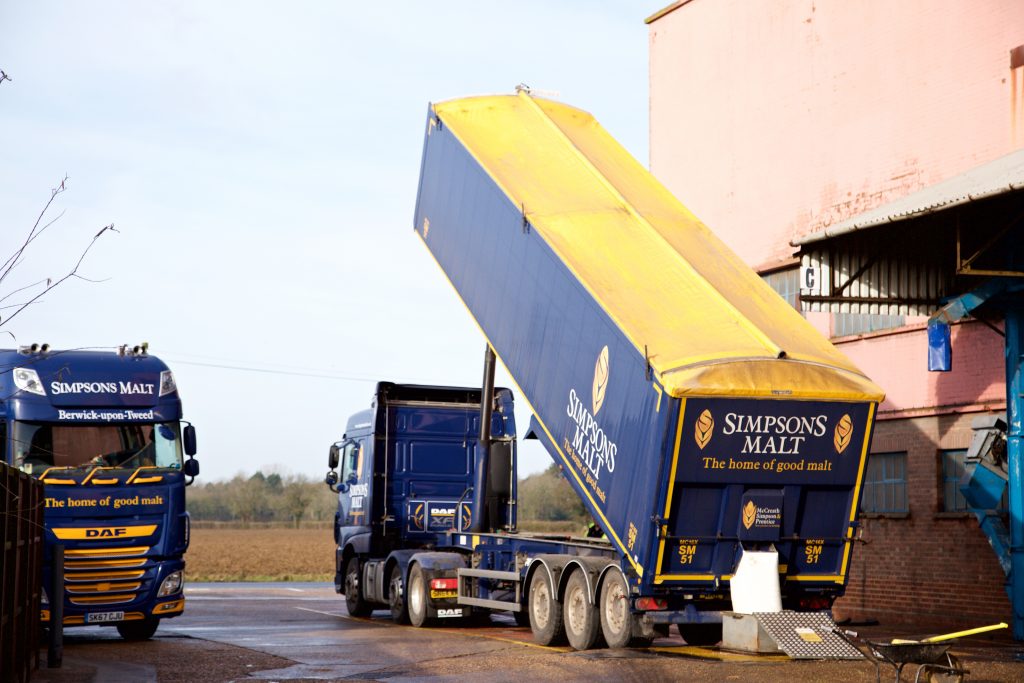 What does a standard day in your role look like?
The day will start with a morning meeting with my team to discuss the movement plan for the next 24 hours, followed by a production meeting with management to discuss wider site priorities and planning. Then I would be looking at what barley requirements we have and work with our planning and transport teams to allocate haulage and storage for barley coming into tip and also to transfer into production or long-term storage.
Next, I work alongside my team to make sure we are on plan for supplying malt to our bagging hall and supplying raw material to our internal customers, the roast house and GKVs. I will also spend time with our supervisor at Fersfield and work on a plan of allocating storage for barley pre-harvest and also for the annual event itself. No two days are ever the same!
What are the challenges you face in your job?
Well there are several challenges, mostly the weather. When working with barley, you never stop thinking about the weather and what the year ahead will be like. As maltsters, we have to adjust and adapt to the barley that's available and make sure we are in a position to intake and nurture our stock for production and being in a position to produce quality malt year-on-year.
Also, keeping the flow of production going is always a good challenge, from intake right through to outloading.
What makes a good harvest for you?
A good harvest is having all the barley come in and tip and we have zero rejections and zero issues on drying and screening. But again, we are in the hands of nature. If farmers have a dry planting season – November time for winter barley and March time for spring barley – and then we have nice drop of rain soon after until the seed has germinated and grown and then get a bit of sun on it, then we know it's going to be good.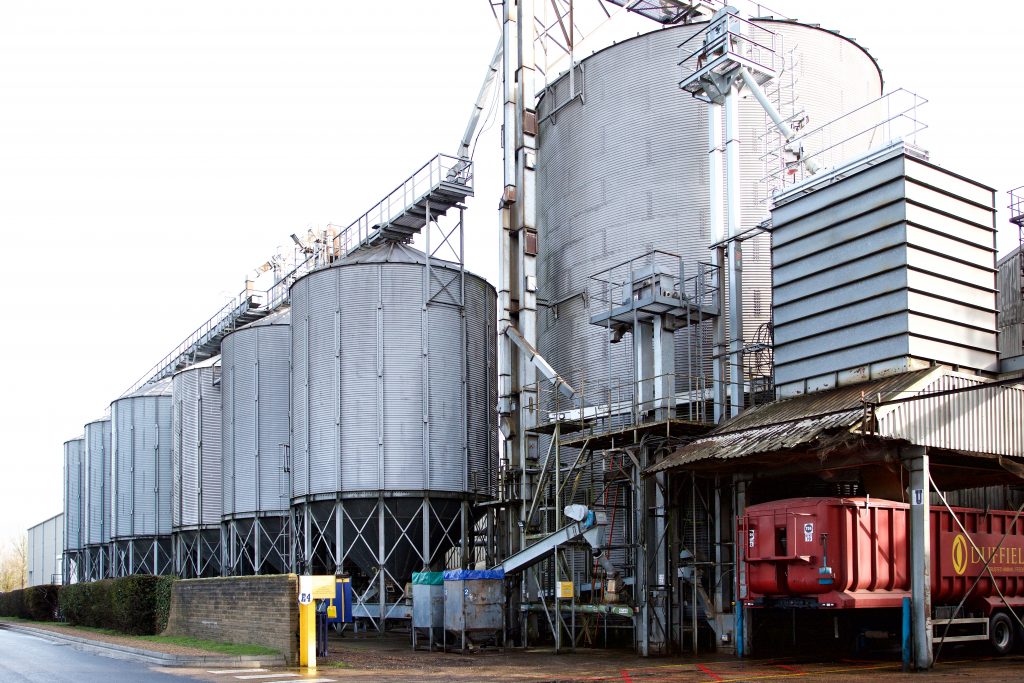 What is the most rewarding thing about your job?
It's true to say that watching every load of malt go out the door to customers all over the world gives me a lot of satisfaction and the buzz from that is still there. However, I would say that the most rewarding thing about my job is having a team who are very passionate and knowledgeable and contribute in different ways to the continual improvement of the site. You can't make good malt out of poor barley and helping improve the team and work to build a strong base and platform for the rest of the production process to work from, that's the most rewarding part.
Also, on a par with that is meeting and working with our trading partners. I'm fortunate enough to have met and worked with grain merchants, hauliers and suppliers and, so far, I've always had the greatest of respect for each individual person and really enjoy building that working relationship.
How cool is it to know that barley that you're in control of is enjoyed in beer by people all over the world?
It's very cool indeed. I often think back to my days at TVM and working in the sheds, silos and intake and think, how many millions, billions or trillions of pieces of barley have I seen and handled?
It is fantastic and I, along with many other passionate beer or whisky drinkers, appreciate a good malty beer or, at Christmas, a single malt whisky. It's a lot of responsibility from grain to glass.
What's your favourite beer that you know is made from our malt?
Crikey – just the one? We're fortunate to live not only in a good beer producing island, but I'm also fortunate to live in a great beer producing county that is Norfolk.
However, if I had to pick one that's my favourite, it's got to be Timothy Taylor's Landlord, on cask at my local pub 100 yards from my house. Malted Golden Promise barley at TVM in Berwick, brewed in Keighley and supped in Norfolk – I'm never really far from home when I think about it!