It's National Apprenticeship Week and here at Simpsons Malt, we are committed to the development of young people. As a result, there are regular openings for apprenticeships in departments throughout the business.
One of our current apprentices is Ryan Oliver, who is in the Finance Department. In this Q&A, Ryan discusses what drew him to the company, the skills he has developed during that time and what his hopes for the future are.
You can read the other Q&A with Apprentice Engineer Andrew Cairns HERE.
Hello Ryan. Could you start by telling us what apprenticeship you're doing?
The apprenticeship provider is Kaplan, which works towards the CIMA (Chartered Institute of Management Accountants) qualification to become a CGMA (Chartered Global Management Accountant), and my job title in the business as Apprentice Management Accountant.
What first attracted you to the apprenticeship in the first place?
I started here in August 2018 and I had just finished my degree at Northumbria University that same summer. I was working part-time and, when I saw the job, it appealed to me because it was loosely related to the Business Management degree that I had done and I particularly enjoyed doing some of the more finance-related modules while I was there.
I also knew that Simpsons Malt was a good company to work for through various people, including David Barrett (Fertiliser Director), who lives next door to me – so it seemed perfect.
What does a standard working day or week look like to you?
In the Finance Department, things tend to work in cycles: daily, weekly, monthly, quarterly and annually. So, there are reports that I run for each department in our business on a daily basis, while I send reports to our lenders each week. In the first two weeks of each month, I send reports to departments highlighting their financial performance, analysing the company financials and answering any queries from those. I also regularly attend departmental meetings, for example the Production Managers' meeting and report their financial figures there, again answering any queries that arise. There's also plenty of other ad hoc stuff as well, such as answering any questions from people within the business and reporting to external agencies periodically.
Then, as far as my course is concerned, I'm doing that two days per week because I'm doing two modules at the moment. My course has four levels and I've completed two of those, with another two to go – and each level has four exams.
What skills have you developed and what qualifications have earned during your time with the company so far?
So I have currently passed all four Certificate level exams and all four Operational level exams. This means that I currently have a CIMA Certificate in Business Accounting (CIMA Cert BA) & CIMA Diploma in Management Accounting (CIMA Dip MA).
I have also passed one of the Management level exams and I'm currently on courses two days a week studying for two others, while there's also a case study exam to do too. Overall, this means I have sat nine exams and have seven left.
All of these will now be online home study modules and exams sat remotely online as I was going into classroom & exam centres pre COVID-19. The company was also sending me out on different courses on subjects, such as VAT returns, to help expand my knowledge in different areas.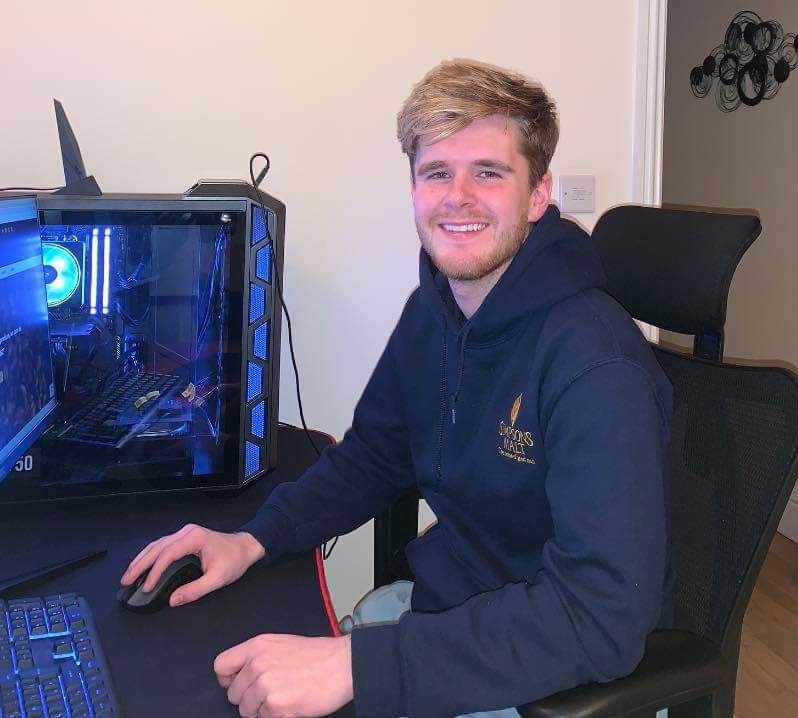 Has your role been impacted or changed by COVID-19 and how are you keeping in regular contact with your team?
Well, as I mentioned, all of my exams and modules are now being done remotely and, as for in work, it hasn't been too bad as I've been in regular contact with members of the Finance Department through Microsoft Teams calls.
I speak most days to Allan [Hobkirk, Financial Controller] to chat about tasks that are ongoing, while in the Finance Department we also have a weekly catch-up. Through the apprenticeship, I also have a Kaplan mentor, who I have a call with every six weeks. Then, every six months, we have a big discussion about my progress which Allan will also be involved with.
Looking ahead, what are your hopes and goals?
Well, I've got an estimated end date of November and, hopefully by then, I will have completed the exams that I've got. Then, there's an end point assessment that Kaplan have that is the actual apprenticeship, where I'm expected to compile a report on the skills I've developed throughout and provide evidence of that, so I'm keeping on top of that at the moment.
After that, I'll be qualified and I hope I can continue to improve my knowledge and become an asset to the business. When I finish my exams, I know I'm not going to be the finished article and there'll still be a lot of work to do and plenty to learn and if I keep learning, I'm only going to get better at what I do.
Finally, how have you found working at Simpsons Malt over the past two-and-a-half years?
It's been great. Everybody has been really supportive of me throughout my exams, course and during work in general. If I ever need to ask anybody for something or have any other queries, they always come back to me straight away.
To have the company put me through my exams too is brilliant. Pre-COVID-19 when I was out on my course at Kaplan, I was speaking to other students from other firms and they were having to pay for their exams and expenses, whereas Simpsons has put me through all of that and have you covered from every angle, so it's been fantastic and everyone has been very supportive.
Would you like to work for Simpsons Malt? Check out our Careers page HERE for more information.