Readers of leading US craft beer magazine, Craft Beer & Brewing, have named Simpsons Malt the Malt Brand of the Year for 2019 in its annual 'Best In Beer' feature.
Headquartered in Fort Collins, Colorado, Craft Beer & Brewing has the highest newsstand distribution of any beer magazine in the craft beer market, boasting a readership of 118,000 per issue, of which 35,000 are brewing industry professionals.
The 'Best In Beer' section combines the different perspectives of the magazine's editors, contributors and readers to exhaustively survey the beer landscape and celebrate the very best of what it offers.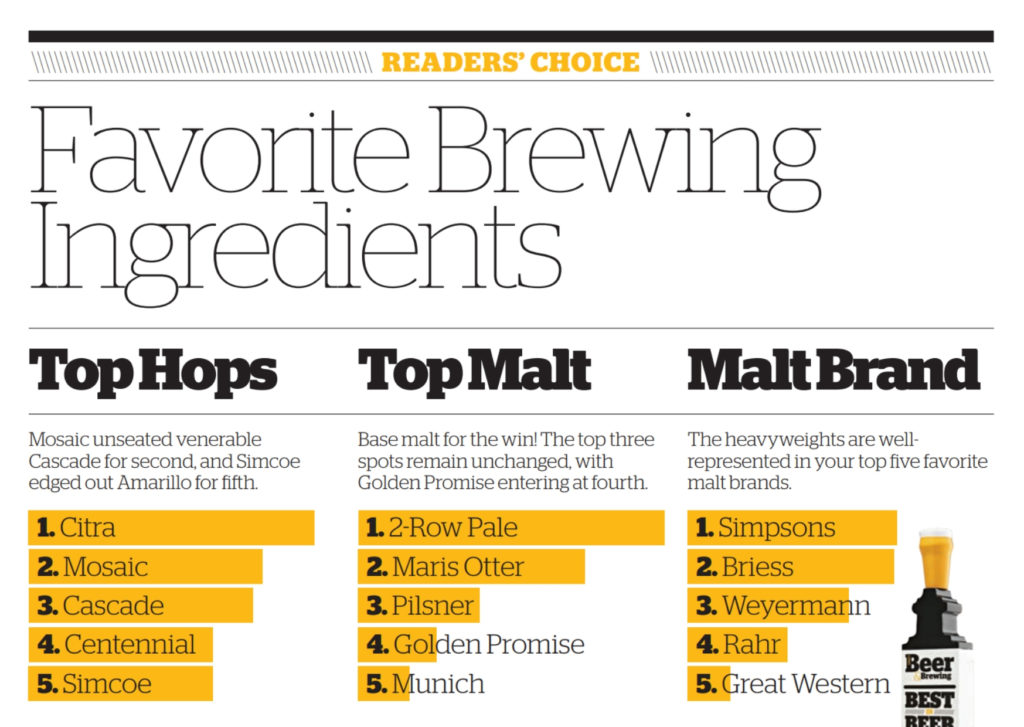 Votes were cast via an email survey sent out in September to the magazine's database of more than 60,000 people which, in addition to asking readers about their favourite brewing ingredients, also covered everything from their favourite beers and breweries to their preferred choice of glassware.
The results saw Simpsons Malt, which is available in the US and Canada through distributor Brewers Supply Group (BSG), edge out Briess Malt & Ingredients Co. to secure top spot in the 'Malt Brand' category, with Weyermann®, Rahr Malting Co. and Great Western Malting completing the top five.
In addition to being named No.1 malt brand, Golden Promise™ found its way into the top five in the 'Top Malt' category for the first time – a considerable achievement given Simpsons Malt is one of the only suppliers of Golden Promise™ into North America. It entered in fourth place behind 2-Row Pale, Maris Otter – which we also supply to North America through BSG – and Pilsner malts.
Simpsons Malt Vice Chairman, Richard Simpson, said: "We're over the moon to receive this recognition in such a well-respected publication, especially with the results being determined by votes from craft brewers who are actively using our products.
"We'd like to say a massive thanks to our fantastic US distributor, BSG, who help to ensure that brewers across North America have the opportunity to brew with our malts. Without BSG and their amazing team, topping this list simply wouldn't have been possible."
Want to find out more about how you can work with Simpsons Malt? Take a look at our malts and find out how you can get it delivered by our distributors. Or just get in touch!