After starting his career in brewing in 1983, Nick Brading has witnessed considerable changes throughout his time in the industry – particularly within the last ten years.
In this Q&A, Nick – who works as the Technical Sales Representative for our UK distributor Murphy & Son in the north of England, Scotland and Ireland – chats about his career to date, how Murphy & Son diversified their business and the biggest challenges facing their small brewing customers.
Hi Nick. Could you tell us a bit about how your career in the brewing industry started?
Well, I joined the industry in the winter of 1983 after graduating from Heriot Watt University, getting a job at Shipstones Brewery in Nottingham, which was a traditional cask ale brewer and, funnily enough, is just down the road from Murphy & Son.
I was there for four years and I did the apprenticeship called the Approved Training Scheme, which was set-up by the Brewers Guild in those days for young brewers entering the industry. We had to do every job on the brewery shop floor and it was quite a hierarchical system of management and old fashioned compared to the way we run things these days, with no computers or anything like that. It was all very manual, but it was an excellent grounding in learning how a good cask ale brewery worked.
After your apprenticeship, what happened?
After four years, I moved to Ruddles Brewery in Rutland and was there for ten years. That gave me a great understanding of corporate brewing because they were owned by Grand Metropolitan at the time. We were quite a small brewery volume wise compared to some of the big ones they had, but we were able to benchmark ourselves against the others in terms of efficiency, quality and costs.
That gave me a great introduction into specification-based brewing and we had some great brands but, sadly, Ruddles was a victim of the dynamic industry that we work in, where fortunes can grow and decline quite easily within a lifetime and, by the late 1990s, the brewery was heading for closure.
When that happened, were you able to remain in the industry?
Thankfully, yes. I responded to an advert by Carlsberg who were looking for master brewers in Copenhagen. It seemed like an exciting job and would mean I'd get into an even bigger corporate, global brewer. So, I moved over to Copenhagen with my wife and soon-to-be family, and we were there for ten years. Travelling all over Europe and the world with Carlsberg was a great experience.
In the mid-2000s, I moved back to Leeds to work at Carlsberg's Tetley's Brewery and it became apparent that Carlsberg were looking to reduce their holding in the UK. The brewery got closed and, by then, I was a little bit tired of production and brewing, so I thought what can I do? So, I hopped over the fence to the 'allied trade side' as we used to call it as Murphy & Son was looking for somebody to rep for them. I initially joined on a part-time basis in 2007, which then became full-time, and I've been with them ever since.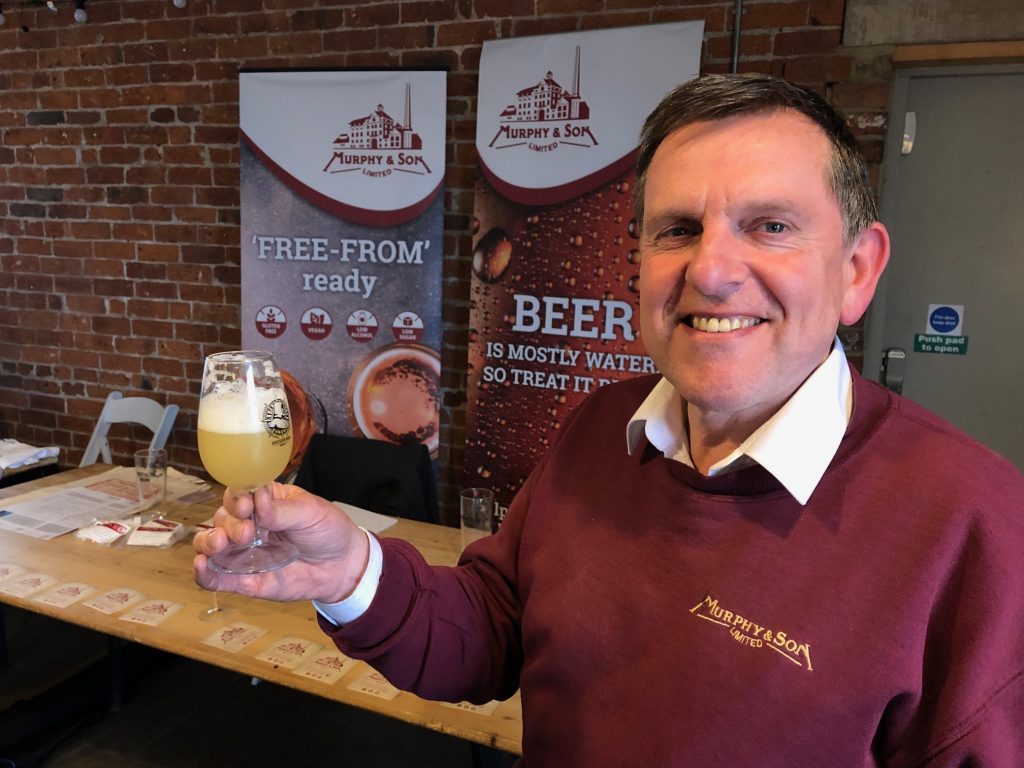 What did your job at Murphy & Son originally involve?
Well, living in Leeds, I was the traditional UK 'on the road' rep for the north of England and Scotland, but I also helped the company build up an export business because of my knowledge overseas with Carlsberg.
This was tricky in the early stages as the company was very focused on the cask brewing industry, which is particular to the UK, and finings and liquor treatments were the core products. So, it was a hard sell because, although the brewers knew these products worked very well, drinking habits are quite different outside the UK and you don't get the pub-orientated drinking culture that we have here. Over time, we started to get some good traction and that's because we diversified and became a 'one-stop shop' for all brewing ingredients and products.
You've been in the industry for approaching 40 years. How much has it changed since you started out?
There have been enormous changes. Even back when I started out, moving into the 1990s you had the advent of computerisation and automation, which started to replace traditional jobs. Then, with increased globalisation, influence of brewing in other countries and other social economic changes that were taking place, pubs became under increasing stress, with cask draft beer in decline and small pack in the ascendancy.
Of course, in the last decade, the biggest change has been the increase in the number of smaller brewers, who have thrown out the rule book of how things 'should be done'. With the relaxation of HMRC's regulations, it became a lot easier to get a brewing licence and, with the rise of social media and ease in which information is available, it has inspired many smaller brewers to take the plunge and have a crack at these things. With this new trend, suppliers have been much more amenable to smaller order quantities.
How has this change in the last decade benefited Murphy & Son?
Well, when I started out in the industry nearly 40 years ago, it was very hard to get a kit bigger than homebrew size, but smaller than a sort of standard, hundred thousand dollars a year brewery. So, the advent of the 10–20-barrel brewing kits and the quality with which they are made, has put small brewing very much on the map.
For Murphy & Son, it's really helped because probably 60% of our business was with the likes of Bass, Allied Breweries and Grand Metropolitan. These big guys have disappeared and have been largely replaced by multi-nationals brewing mostly lagers, which didn't really want cask beer. So, in a year, Murphys had lost a huge section of their market and the rise of the craft market has really saved the company.
For that profile of brewer, it's useful for them to have everything in one order – malt, hops, yeast, yeast foods, liquor treatments, finings – all coming in from one or two suppliers and that's really where Murphy & Son has been able to proliferate and meet that demand.
How long have you known and been working with Simpsons Malt for?
I've known Simpsons Malt for many years, as I was a customer at many of the breweries I worked at. Certainly at Ruddles we brewed with Simpsons Malt and I remember John Shoebridge very fondly – he was a lovely man who entertained us at your maltings at Tivetshall in Norfolk.
Then, Murphys have had a relationship with Simpsons Malt for quite some time now and that relationship has only got stronger in recent years with an increased number of smaller brewers looking to get their products all in one order.
What do Murphys customers like about Simpsons Malt products?
Simpsons Malt has a great coloured range, the quality is very good and, with us stocking it, it fits in with the convenience factor for our customers in being able to order other ingredients through us too.
Brewers like to experiment and smaller breweries are more flexible and have a greater ability to do that, so I think with all of the malts they use they get good results and that encourages them to stay with the brand and try more of your products.
What do you foresee being the biggest challenges for your customers moving forward?
I think the biggest challenge for brewers is maintaining quality. Keeping prices down is a challenge for them because somehow you've got to increase your growth in margin, or you've got to increase your profitability over the years.
It's quite hard for the smaller brewers to grow volume because they get to a certain stage and they have to make a decision whether to go for a new, a bigger brewery –which they have to produce a huge amount more to make it pay, not only for the brewery costs but the new tax threshold – or do they stay where they are and keep ticking over, which is fine. I know quite a lot of customers do that, but the pressure then comes because their background costs continue to rise, such as energy, taxes, wages, utilities and more.
Finally, after what has been an awful 12-18 months for the industry, do you foresee a large post-COVID boom?
Yes, I do – I think it'll be like Christmas in July. It'll be good to see a resurgence in volume and there'll be the excitement of being back to normality again. Hopefully, we get a good summer and I think there'll be a celebration, so I'm very much looking forward to that.
—
For more information on Murphy & Son, visit their website HERE.
You can also follow Murphy & Son on social media:
Facebook: Murphy & Son
Twitter: @MurphyAndSonLtd
Instagram: murphys1887
If you're not yet a customer but are thinking about becoming one, find out more about our quality malts, or get in touch with our helpful order team.