In December 2019, after a little more than two years as Head Brewer at Burnt Mill Brewery in Suffolk, Sophie de Ronde was crowned Brewer of the Year by the British Guild of Beer Writers.
It was a fantastic achievement and one that, prior to joining Burnt Mill, she was unsure would have ever been possible after the discovery of a barley and wheat allergy in her previous job at maltster Muntons, which threatened to bring her ten-year career in the brewing industry to an end.
In this Q&A, Sophie talks about her career to date, her love of our coloured malts and launching the International Women's Collaboration Brew Day (IWCBD), which has become one of the key events in promoting diversity in the industry across the world.
What is your brewing background?
I started brewing with Brentwood Brewing Company in 2008 and before that I was managing a cellar in a local real ale pub. From Brentwood, I moved to maltster Muntons, which was a good step as I took on what was a new role at the company's pilot brewery. It involved doing trial recipes and brews for different customers and troubleshooting for them when required. I built the job up from pretty much nothing and I learned so much more about the malting process that I didn't know previously. Overall, it was a really good experience.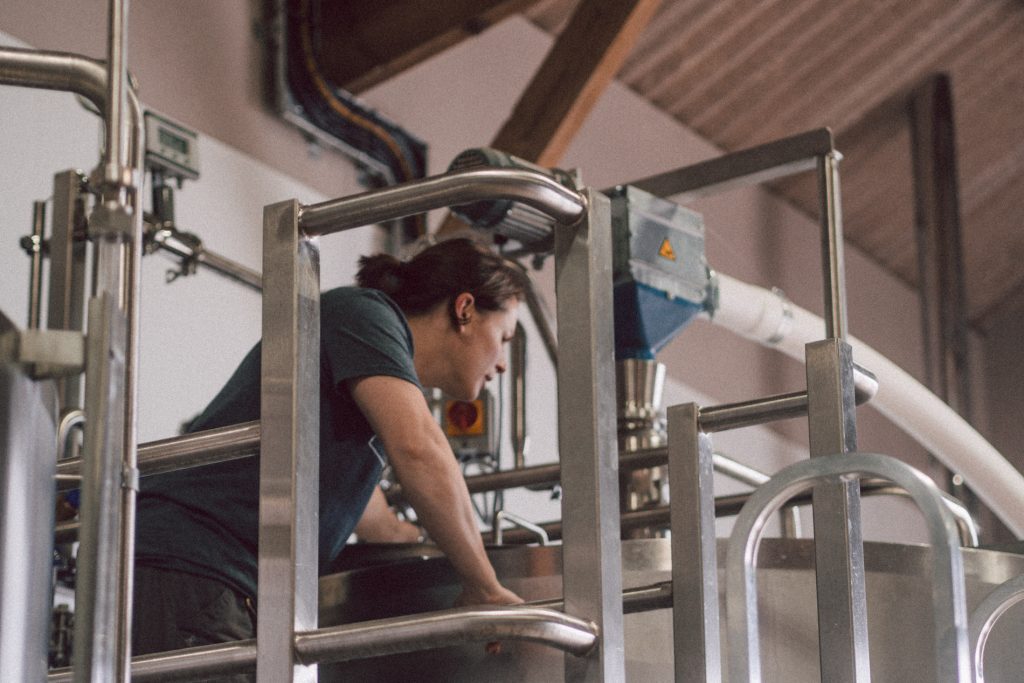 Burnt Mill Brewery was founded in 2017. What was it about the project there that encouraged you to move back into commercial brewing?
There were a couple of reasons, actually. The first one is that I missed commercial brewing. I really enjoyed the aspect of creating a product that lots of people enjoy. To a certain extent, I was doing that at Muntons but it wasn't quite the same when it wasn't my recipe or ideas and you were helping someone develop what they envisaged. But a bigger issue was that when I was at Muntons, I discovered that I was allergic to barley and wheat, so I pretty much had to get off-site because my health was getting progressively worse. It was unfortunate, as it meant my career at Muntons ended a bit sooner than I had initially intended, but the timings worked out as Burnt Mill was opening over the road.
Once you found out about your allergies, did you consider leaving the industry?
Yeah, around that time I was like, 'Oh crap, what the hell can I do?'. At that point, I'd put ten years into my career. I loved the industry and wanted to be a part of it. But it was a case of either going back into doing what I absolutely loved or staying on the supplier side but moving across to another area such as hops. But my heart was very much with micro-brewing, trying to help things grow and creating products that people really love. So I thought I'd give it a go. I spoke to Charles [O'Reilly, Founder of Burnt Mill Brewery] and got on really well with him. I liked his ethos and his vision for the brewery, so I thought it was a good opportunity. I obviously explained to him the issues surrounding my allergies but he seemed very willing to accept me with my restrictions of not being able to taste any beer.
You've been at Burnt Mill for more than two years now. How has that been for you?
Yeah, it's been really good. Naturally, smaller, start-up businesses come with their restrictions and processes tend to be slow – particularly as everything in the brewery is self-funded. We haven't done any crowdfunding. It's been particularly nice to see the business and brand grow from nothing to where we are now, with projections and forecasts properly and firmly in place. Now, it's a case of trying to achieve those projections and keep the momentum going.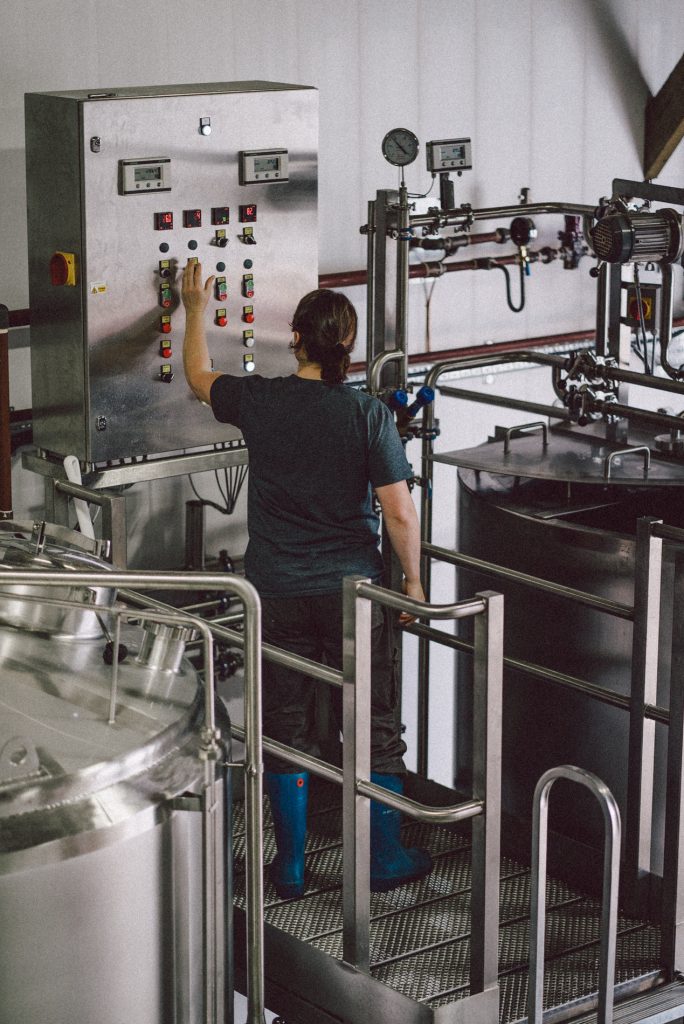 So, what's on the horizon for Burnt Mill in 2020 and beyond?
Our canning line arrived and was commissioned at the end of last month and that means we have more control over packaging times, which means that we can have a slightly tighter schedule in the brewhouse and keep a tighter specification on our final packaged beer. Also, where we do everything in tank and we don't filter anything like that, naturally yeast drops out over time and if we want a little bit of yeast or extra protein in there, having complete control of tank time will be super beneficial in helping to keep our core beers nice and consistent.
When did you first start using Simpsons Malt products at Burnt Mill?
I started using Simpsons Malt products in May last year – so it's actually only been around nine or ten months. With coloured malts, I've always regarded Simpsons as one of the best and although we don't do that many coloured beers, when we do, it's nice to get Simpsons' coloured malts in because I know they'll give us the best flavours and exactly what we want out of our beers.
Away from Burnt Mill, you established the International Women's Collaboration Brew Day (IWCBD), which runs annually on March 8. What prompted you to set that up?
It all started with Project Venus, which Sara Barton [Founder of Brewster's Brewing Company] set-up back in 2011. She wanted to do some collaboration brews with other female brewers in the UK to raise awareness of women in the industry. Back then, diversity in the industry was slim and although there were a few female brewers around, no one really knew one another.
Being part of Project Venus was so much fun. I learned a lot; I networked a lot. We all became very good friends and with the industry being so friendly and welcoming, afterwards if any of us had any questions about ingredients or techniques, we had a private Facebook group where we could ask questions and fellow brewers would jump in to help.
I absolutely loved it and I thought about how we could grow it and take it further and that's where the international thought came about – and what better day to host it on than International Women's Day? When I thought of the idea, I touched base with several contacts, and it went from there. The first IWCBD was six years ago and it's been astonishing and heartwarming the amount of people who have got involved. It proves that mass collaborations are brilliant and it's not just brewers we're trying to encourage; it's for anyone really from the industry. Even women who are more office-based and want to find out more about the brewing side of things. It's an opportunity for them to get their hands dirty and find out more about the brewing process.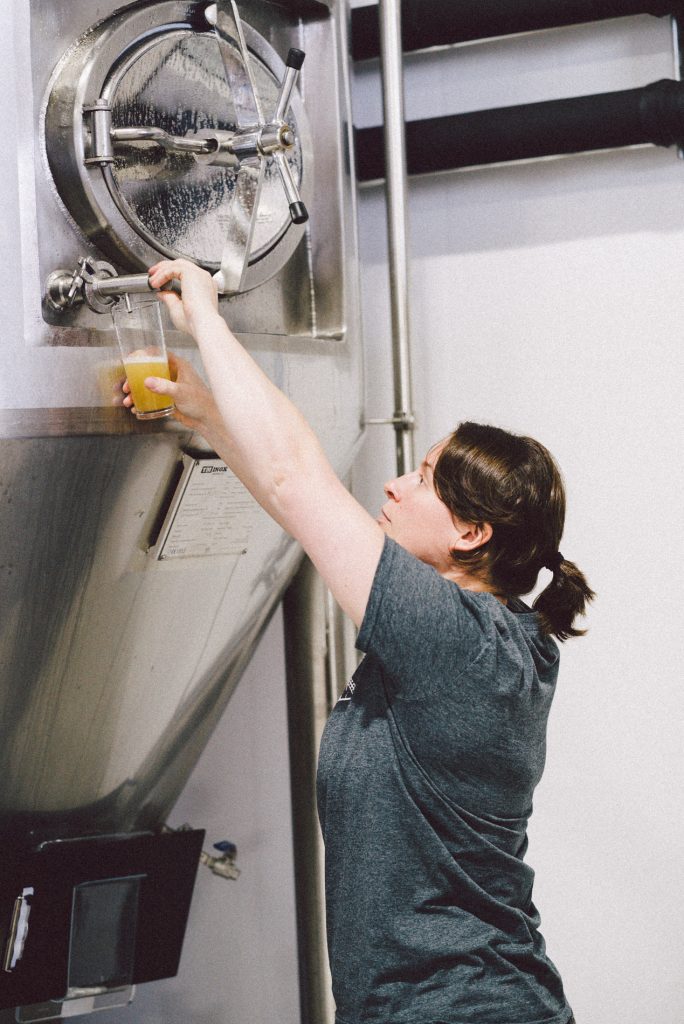 When you go back to when you started at Brentwood back in 2007, how do you feel as though the industry has changed between then and now when it comes to diversity?
The industry is so much more diverse now, and it's been more noticeable especially in the last five or six years. What that's down to, I'm not sure. As a whole, the industry is very open and welcoming but I also like to think that events such say IWCBD and other craft beer groups are having an effect.
And how about the beer industry as a whole?
It's changed a lot over the years in certain ways and in other ways it hasn't at all. Twelve years ago, there was that big push from small microbreweries and a fight between them, the regionals and multi-nationals. That fight still goes on today. It hasn't changed and I don't think it ever will.
People who are interested in craft beer are still in the minority when you look at the whole market and that was the same 12 years ago. What's changed things considerably is social media. Accounts related to craft beer – whether it's the breweries themselves or craft beer 'geeks' – are the loudest beer accounts and yes, it has benefited the industry in certain ways because it has made the craft beer industry much more openly recognised by the general public. But on the flip side, that 'loudness' can often come across as arrogance.
Finally, you were named Brewer of the Year by the British Guild of Beer Writers back in December. How did that make you feel?
I was super, super chuffed. Really proud. Especially when I've not been able to drink a drop of beer for the last three years apart from some alternative grain beers. But yeah, it was a real honour to have that accolade bestowed upon me by people who are knowledgeable about beer and really know their stuff.
—
For more information on Burnt Mill Brewery, visit their website HERE.
You can also following Burnt Mill Brewery on social media:
Facebook: Burnt Mill Brewery
Twitter: @BurntMillBeer
Instagram: burntmillbrewery
You can also follow Sophie on Twitter at @BrewSophie!
If you're not yet a customer but are thinking about becoming one, find out more about our quality malts, or get in touch with our helpful order team.