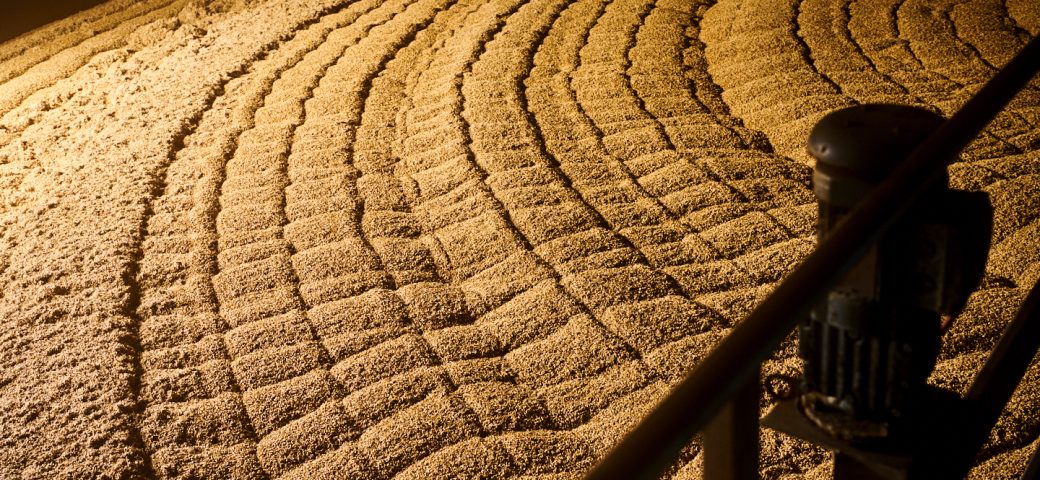 Whether you're a brewer looking to add a certain special something to a new and innovative beer, or a distiller on the hunt for an infinitely complex and subtle taste, as specialist malt suppliers we've got the perfect range of malts to meet your needs.
Our malts are renowned for their exceptional taste and flavour, with the care and attention-to-detail we display during our processes helping to craft high-quality malts for some of the world's best brewers and distillers.
But that care doesn't just start when the grains of barley arrive at our malting sites. With an agricultural merchanting division, McCreath Simpson & Prentice (MSP), built into the business, it starts right back with seed supply and production at our seed plant.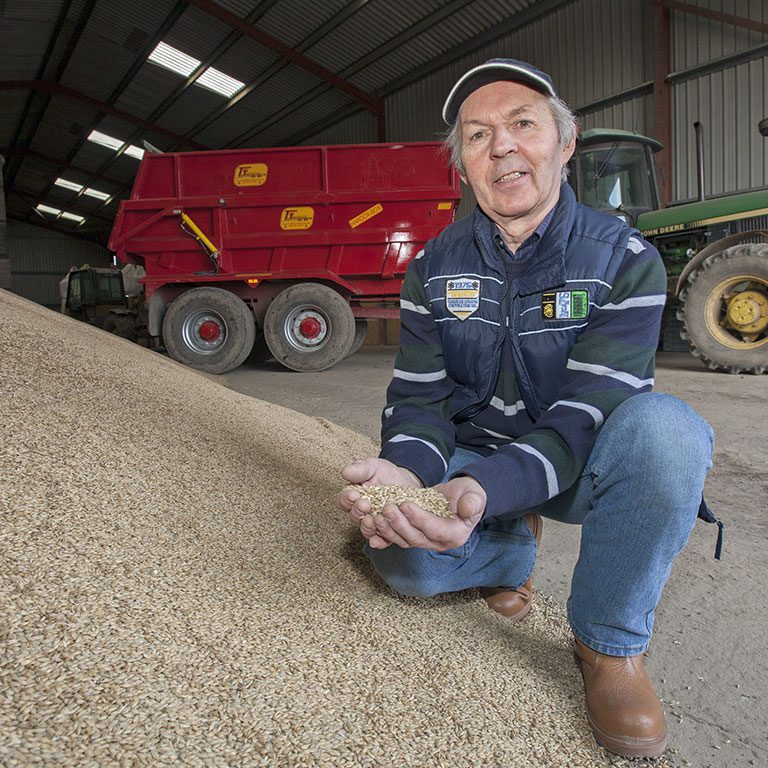 Working with our suppliers
We've founded a robust supply chain upon our long-standing relationships with our farming customers, who are contracted to grow the finest UK two-row barley from 100% certified seed.
Through McCreath Simpson & Prentice (MSP), we trade combinable crops and supply a full range of services and inputs. We also employ BASIS and FACTS qualified agronomists, who advise our farming customers on nutrient planning, crop protection and long-term crop programmes.
With its focus on the future, the MSP seed department works years in advance to identify appropriate new varieties of barley, developing our next generation of seed stock.
"It's exciting to see how things turn out when you are trialing new seeds. Of course, it's time consuming to run trial plots because you need to recalibrate everything whenever you start a new trial but I love innovating and being at the forefront of technology."

Rod Smith, Trial Plot Manager and Arable Farmer, Beal, Northumberland
All of this ensures that we have a secure and consistent supply of quality barley, fulfilling the specific malt grain supplier demands of our customers.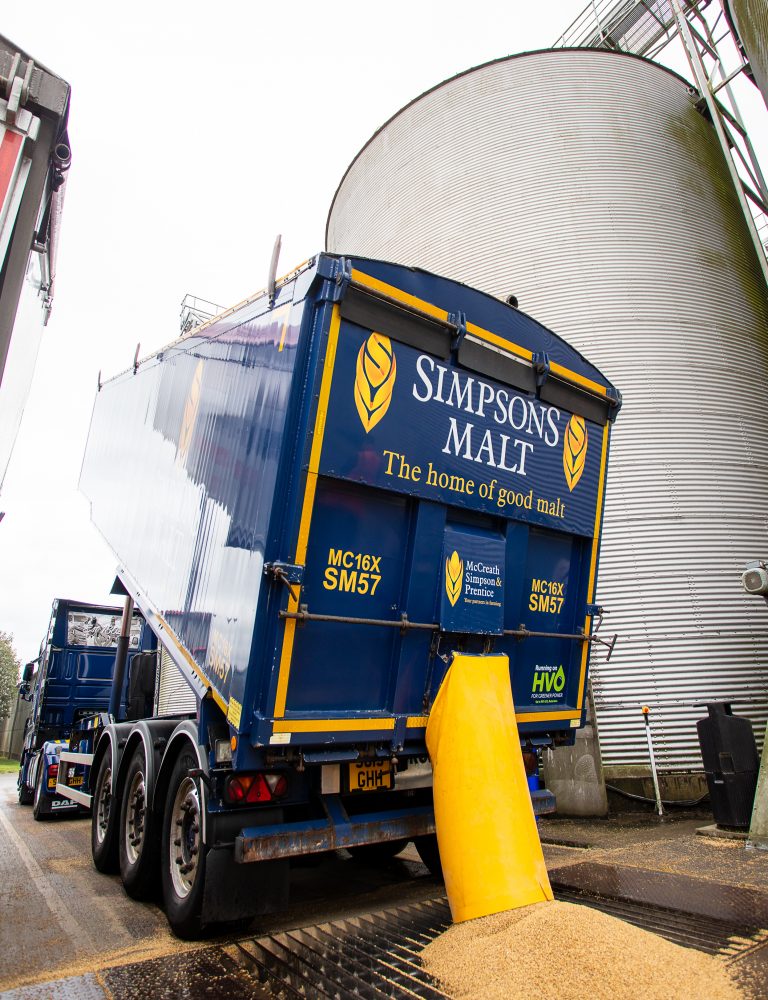 Barley Intake
All barley that arrives at our maltings is sampled, tested and recorded for full seed, field and store traceability. Only after testing do we release it, ready for storage on-site and then processing.
Having full responsibility for the storage of our raw materials is a vital consideration in our processes.
It's why, in January 2021, we completed the acquisition of the grain merchanting business of W.N. Lindsay Ltd. This brought the company's Scottish sites at Gladsmuir in East Lothian, Sidlaw in Perthshire, Stracathro in Angus and Keith in Morayshire under our control, increasing the number of our grain storage sites from two to six.
This provided us with more than 250,000 tonnes of additional grain storage. On top of on-site storage at our Tweed Valley Maltings and Tivetshall St Margaret Maltings, as well as our grain stores at Craigswalls in the Scottish Borders and Fersfield in Norfolk, it means we have the capability to purchase and store 100% of our annual barley requirements at harvest time every year.
The barley is stored within our control, in quality assured stores, ensuring our high standards are consistently met and therefore securing supply.
We set precise quality control measures both at our maltings and our storage premises. We keep each harvest secure with temperature-control and low moistures. We check each load before intake and then store it safely, monitoring temperature, moisture and germinative viability.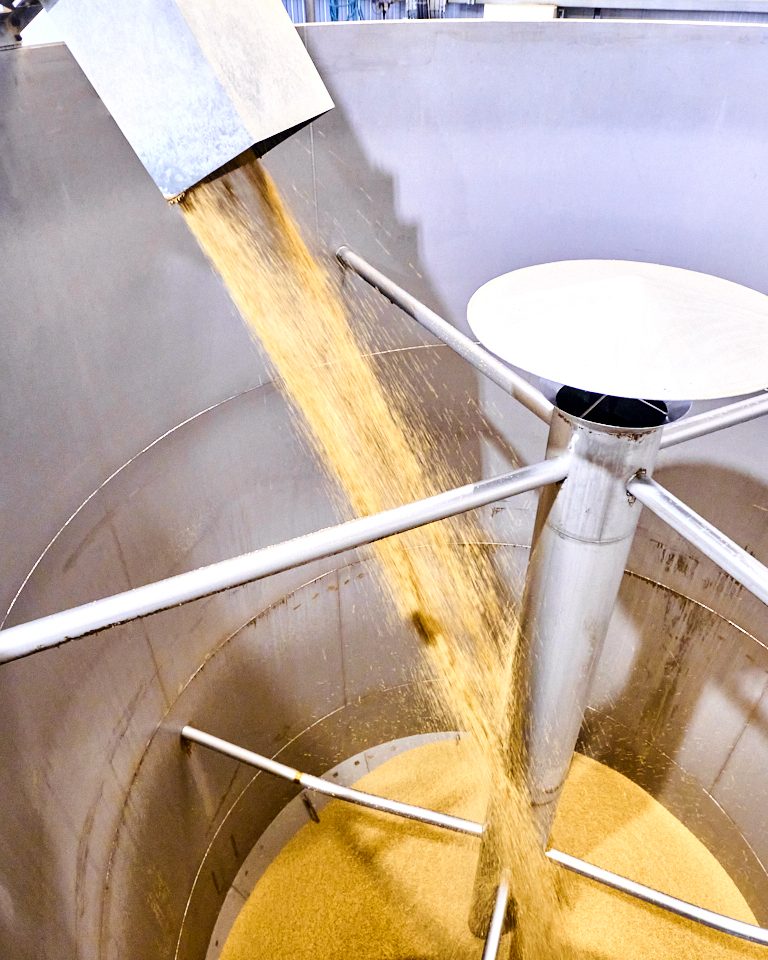 Our steeping process
After screening and washing the barley, it is ready to begin the 'active' malting process, which starts with steeping.
The grains are transported to large, cylindroconical tanks and go through a series of 'wets' and air rests. During a 'wet' phase, high volumes of low-pressure air lifts grain and water up the central pipe, which is then dispersed by the cap on the top of the pipe.
This ensures that the barley is regularly moving around the steeping vessel, while it also introduces oxygen into the steep water.
The goal of steeping is to raise the moisture content of the barley from around 12% to 45%, which triggers the starts of the germination process. The process takes 40-48 hours and, by the end, rootlets or 'chits' emerge from the embryo of each kernel.
Read more on our steeping process
Our germinating process
We transport the chitted barley on belt conveyors to our stainless steel germinating and kilning vessels (GKVs), germination vessels (GVs) or germination drums. This method ensures gentle handling and protects the chits.
Hygiene is a key consideration during the germinating process. The fixed beam and rotating floor of our stainless steel GKVs allow for inspections to take place with ease and at any time and reduce the risk of contaminating the grain.
We germinate the barley for no less than four days. We blow temperature controlled air through the bed of grain and the endosperm of the grains is modified by breaking down the cell walls, protein matrix and starch granules.
The germinating grain lifts on turners and moves grains at the bottom of the bed to the top. The regular movement keeps the green malt from matting and ensures consistent results.
Once the barley has completed the germination phase, it is referred to as 'green malt.'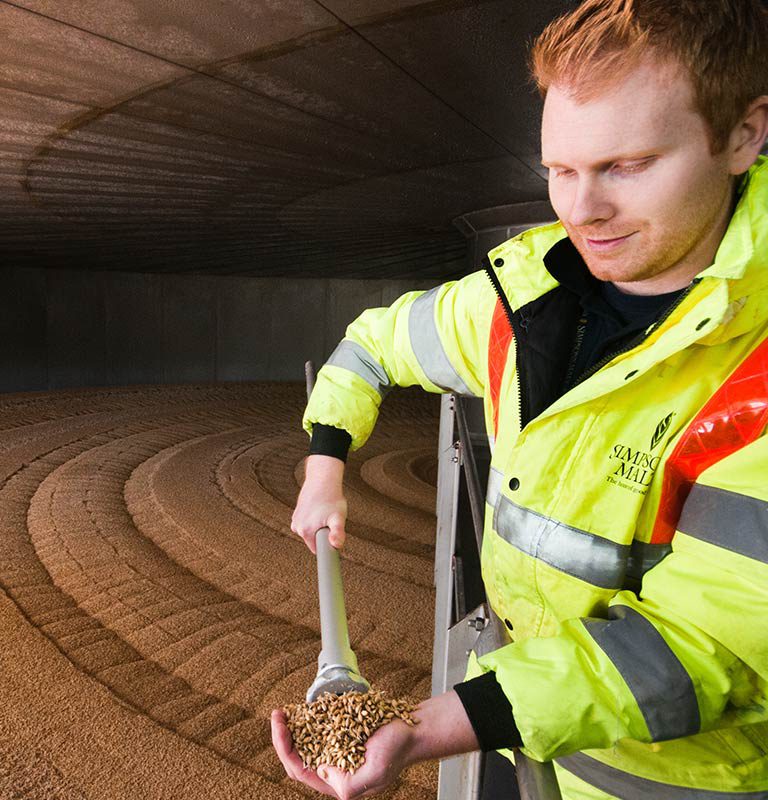 Our kilning process
When the maltster judges that the germination process is complete, we replace humidified air with temperature-controlled air, adjusting the kilning schedule as per each required specification.
Kilning kills the embryo and stabilises the endosperm of the grains, but leaves viable enzymes that are used by brewers and distillers in the mashing process.
The kilning process tends to last between 20-24 hours. The moisture content is reduced down to around 4% and it's during this time where the finished malt is produced, as it's here where the grains get their colour and flavour.
Our roasting process
Our Tivetshall St Margaret Maltings has five roasting drums, which is where our diverse range of speciality malts are produced.
More than 15 of our products are made here, from lightly roasted products like Caramalt and Crystal Light, to intense, darker roasted products like Chocolate Malt and Black Malt. Each of these speciality products bring different qualities to that finished beer.
The roasting drums rotate constantly, to keep the product moving and give an even application of temperature. Like the kilning phase, the duration of the roast and the temperature inside the drum dictates what finished product is made.
Our highly trained, expert roasting team analyse each batch throughout the roasting phase and also afterwards to determine that the level of crystallisation or roast meets our high standards.
"The roasting process involves a lot of feel. It's reasonably easy to understand – but very difficult to master. It's not something you can do from a book but rather it's a skill to be acquired over many years."

Alan Cunningham, Roast House Production Manager, Tivetshall St Margaret Maltings, Norfolk
After being discharged from the roasting drum, the finished malt is then cooled before being transported to our Bagging Hall or malt outloading bins for despatch.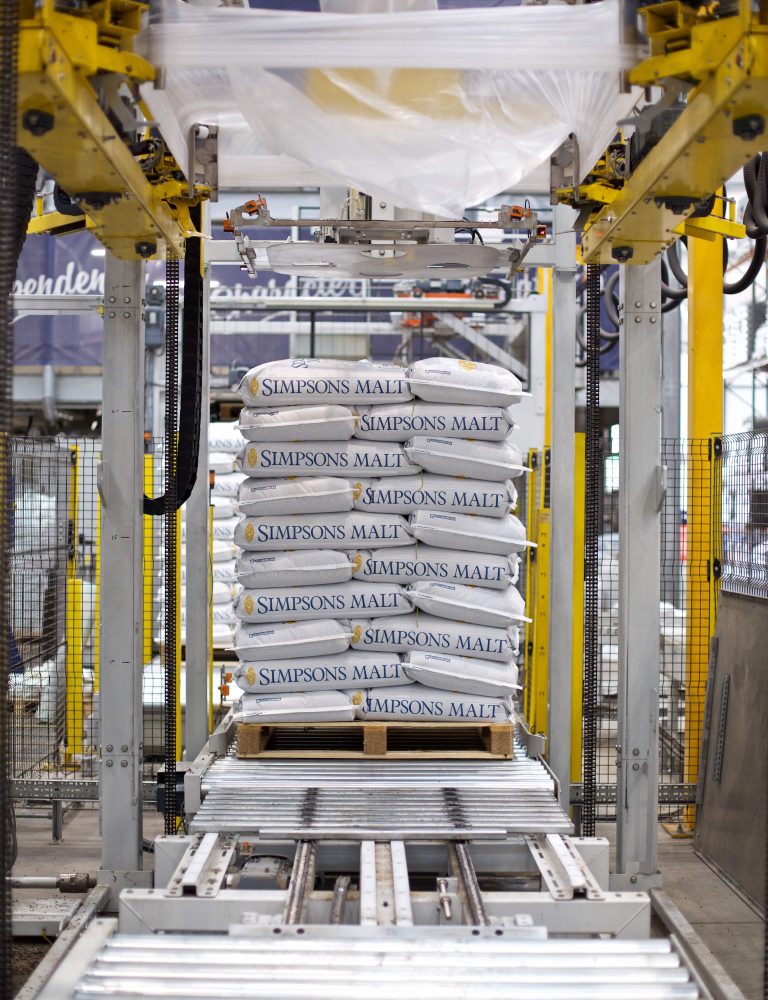 Our bagging and transportation process
The final part for the process for us is ensuring that our high-quality malts are packaged up and delivered to our global network of customers in the best possible condition.
The outloading process differs significantly at each site. At our Tweed Valley Maltings, the finished malts are transferred to malt outloading bins and loaded into bulk wagons, with our award-winning fleet predominantly servicing our distilling customers in Scotland.
Our Tivetshall St Margaret Maltings, meanwhile, has a Bagging Hall. Here, our malts can be packaged up into different sizes, but most commonly our 'easy-open' 25kg sacks. We can also package malts into one-tonne tote bags and, less frequently, half-tonne totes and 50kg sacks.
Prior to the malt reaching the bagging line, if required, we can mill our malt to order and match our customers' need for either coarse or fine-sized grounds.
Once palletised and ready for despatch, the malt can be loaded into either curtain-sided wagons for our UK customers, or shipping containers for many of our overseas customers.
Read more on our bagging process
Sustainability
With our goal to be carbon neutral by 2030, we are always working on ways to make our processes more sustainable – from farm to the malt's arrival at our brewing or distilling customers' sites.
We have completed a number of small, but significant steps on the road to carbon neutrality.
These include working with our farming partners who grow malting barley for us on contract in becoming verified to Gold level on the Farm Sustainability Assessment (FSA), to reducing net CO2 emissions from our haulage fleet by up to 90% through the use of HVO fuel.