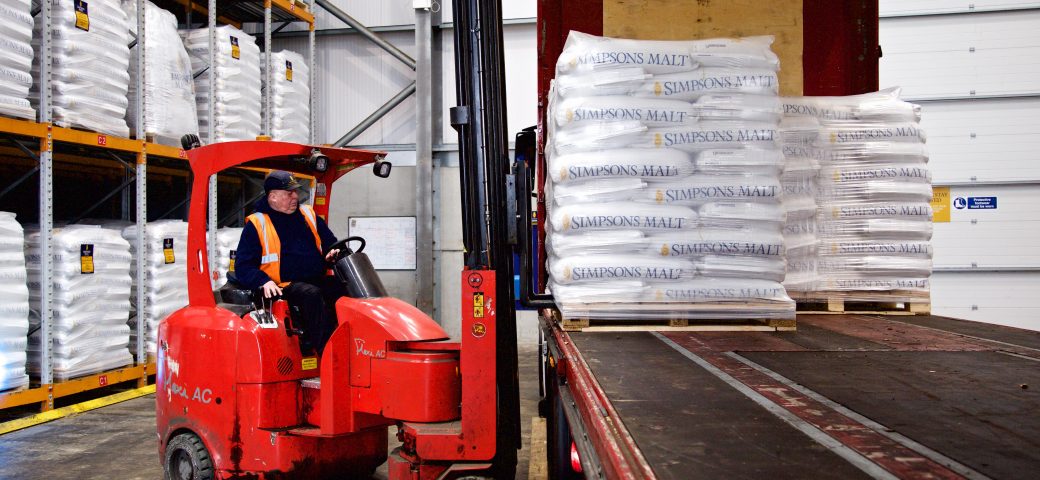 With the malting process complete, the final part for us here at Simpsons Malt is ensuring that our high-quality malts are packaged up and delivered to our global network of customers in the best possible condition.
If you've read the pages on Our Maltings, you'll know that the packaging and outloading processes differ significantly at each of our sites.
Tivetshall St Margaret
The malt produced at our Tivetshall St Margaret Maltings in Norfolk is for the brewing and food industries and the vast majority of this is bagged into 25kg and one-tonne tote bags.
A smaller amount is transported in bulk wagon loads to some of our larger brewing and food customers.
Our Bagging Hall opened in 2015 and was enhanced in 2017 to meet increasing capacity requirements.
Bagging Hall intake
We have three intake points at the Bagging Hall – one for base malt, one for crystal malt and one for roasted malts.
Keeping them separate in this way makes sure that there is no cross-contamination between the types of malt, which is very important.
Before any bagging gets underway, the malt is cleaned via a magnet, screens and a de-stoner.
The screen is essentially a giant sieve, helping to remove dust, lumps, stones and any other small particles. We spend a lot of time ensuring our malt is of the highest quality possible when it reaches our customers, so this step is essential. The malt is then placed in intermediate storage.
Milling
Before reaching the bagging line, the final process the malt goes through – depending on customer specification – is milling.
At Simpsons Malt, we offer a milling service, which provides the opportunity for customers to take their finished product either crushed or whole. This is usually dependent on whether the customer has a mill at their site.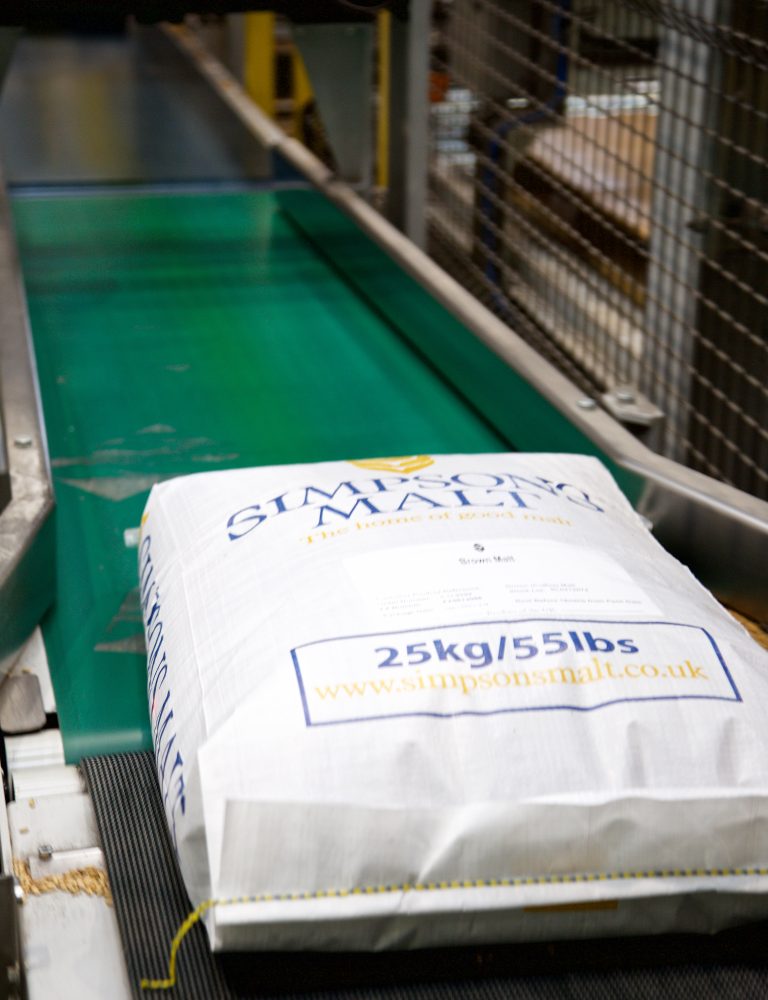 Bagging line
Our lovely, finished malt is now ready to be packaged up.
We supply a huge variety of brewers who have different requirements, so the different sizes of malt bags we offer is important. This is primarily 25kg and one-tonne tote bags, although we do offer a half-tonne option too.
On the bagging line, the 25kg bags are filled with malt and sealed before being loaded onto a pallet.
Once the 40 x 25kg bags are loaded onto the pallet, it is then secured with hooded plastic to ensure its stability for transport. Recently, we worked with the R&D department of our bag supplier LC Packaging, who added a cohesive coating to the bags to reduce the chances of them slipping during delivery.
The success of this roll-out meant we were also able to reduce the layers of plastic on our pallets from two to one, resulting in a 45% reduction in plastic use for this purpose.
Finally, the assembled pallets are stored on pallet racks ready to set out on a journey to our brewing and food customers.
For our UK customers, we work with third-party haulage partners to ensure the safe delivery of our bagged malt. Many of our European customers send their own haulage partners to our site for collection while, for our customers in the North America, South Africa, Australia and the Far East, the pallets of bagged malt are loaded into shipping containers and transported to the local port.
Tweed Valley Maltings
The malt produced at our Tweed Valley Maltings in Berwick-upon-Tweed is predominantly for the distilling industry and the vast majority of this is transported in bulk wagon loads to distilleries across Scotland.
After the kilning process is complete, the malt is transferred via conveyer belt to a malt storage silo, before being moved to one of our malt outloading bins ready for despatch.
The wagon stops underneath one of the malt outloading bins and the trailer is filled with malt. While this is taking place, a representative sample is taken from the load to analyse and duplicate samples are kept in case of query.
The sample is tested for friability, homogeneity, steely corns, moisture, colour and sieve check to ensure it is the correct specification for the customer.
The analysis is recorded for customer delivery despatch notes and is ready within 10-15 minutes of loading. Only once it is confirmed that the analysis conforms with the customer specification is the wagon sent on its way along with the paperwork for delivery.
All the wagons based out of our Tweed Valley Maltings use HVO, a sustainable fuel that reduces net CO2 emissions by up to 90%.
Learn more about different aspects of the malting process