Simpsons Malt, the fifth-generation, family-owned malting company, has entered into an agreement to acquire 40 acres of land in Speyside, Scotland, where it intends to build a state-of-the-art maltings with malting barley storage facilities, subject to planning and due diligence.
The land is situated near the town of Rothes, ten miles south of Elgin, in a region that is world-famous for its Scotch whisky distilleries – many of whom use the company's malts in their whiskies.
The construction of a new maltings near Rothes would expand the largest independent UK maltster's number of sites in the country to three, with its other maltings in Berwick-upon-Tweed, Northumberland – where the company's headquarters is located – and Tivetshall St Margaret, Norfolk.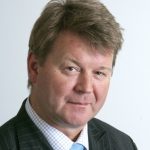 Speaking about the land purchase, Simpsons Malt Managing Director Tim McCreath, right, said: "I am delighted to announce that we have entered into this agreement, which aligns with the company's long-term strategic objectives.
"Having a maltings and malting barley storage facility in Speyside is something we have given serious thought to for a number of years and, subject to planning and due diligence, we will begin construction when the time is right and demand is there from our customers."
Want to find out more about how you can work with Simpsons Malt? Take a look at our malts and find out how you can get it delivered by our distributors. Or just get in touch!