Updated: August 17, 2021
At Simpsons Malt, the health and safety of our staff and business partners is of utmost importance to us.
Since February 2020, we have been issuing regular updates to our staff and customers about the COVID-19 (Coronavirus) outbreak and how it may impact the company, which has aligned with advice issued by the Governments of England and Scotland.
Simpsons Malt is categorised as an 'essential' business. As part of the food industry, our agricultural merchanting division McCreath, Simpson & Prentice has a role to play in supporting our farming customers in the growing of their crops. For our malting customers, meanwhile, their products go into both the food and drink industries. As a result, the company has remained open throughout the pandemic in order to service our customers.
However, the Simpsons Malt Business Continuity Team – who are meeting regularly to discuss the impact of COVID-19 – have a comprehensive list of measures currently in place to ensure that our employees remain healthy and are always abiding by the Government's guidelines.
They are as follows:
Employees who can work from home are continuing to do so and this will remain the case until at least the end of harvest, due to the increase in temporary staff needed on-site to work during this busy period. All homeworking staff remain fully contactable, with their landline numbers redirected to their mobile numbers.
The NHS app supporting the Test and Trace system has been installed and configured on all work-based mobiles, helping to support the company's COVID-19 Secure arrangements. Staff have also been encouraged to install the app on their personal devices.
All colleagues classed as 'extremely vulnerable' and who were asked to 'shield' are now allowed to work from site with the necessary precautions in place.
Despite the fact there is no longer a legal requirement to socially distance or to wear face coverings, two-metre Social Distancing continues to be in place throughout our sites. Face coverings are also mandatory when moving around indoor communal areas, such as offices, canteens, corridors, passageways, stairs, lifts, staff rooms, training rooms, changing rooms and entrances.
Sanitising foam/gel and disposable tissues have been made widely available to staff so that they can follow good hygiene practices.
Weekly testing is in place for colleagues who are working on-site.
The poster below is on display in many places throughout our sites to make colleagues aware of the COVID-19 symptoms and the protocol they should follow if they feel they are showing symptoms.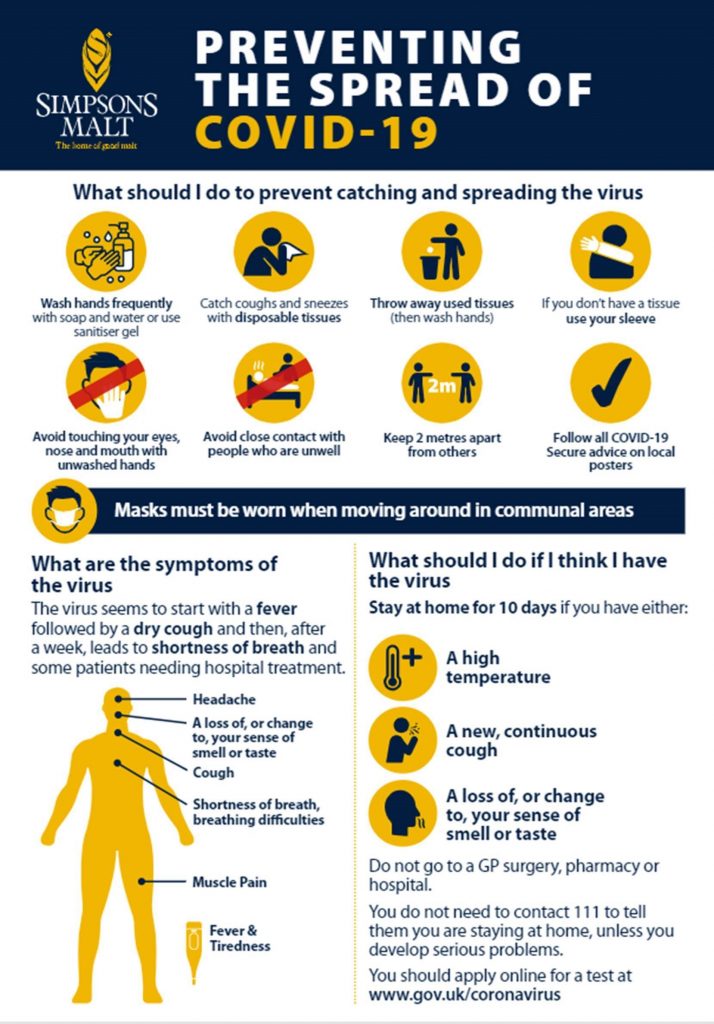 Employee visits to other sites (our own, suppliers, customers or events) can start to take place for important purposes and ensuring all COVID-19 guidance is followed. Wherever possible though, meetings with suppliers, customers or events are to be arranged using available technology.
Non-essential visits to our sites have also been stopped. Essential visits include contracted works and deliveries, with contractors responsible for ensuring their employees are following company guidelines at all times.
We hope you fully understand the necessity for these measures and apologise for any inconvenience they cause.
Tim McCreath
Managing Director, Simpsons Malt Ltd