This year we are pleased to reveal that Richard Moxom of Diageo Global Supply has won the Institute of Brewing and Distilling (IBD) Simpsons Malt Award.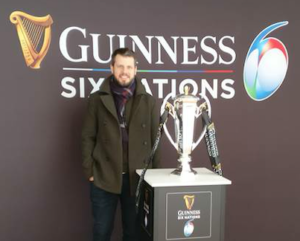 Richard received this award for achieving the highest mark in his Diploma in Distilling Module One Examination.
Richard is a Biochemical Engineer and has been with Diageo for the past thirteen years, currently working as a Beer Operational Excellence Quality Manager with the firm. Keen to expand his knowledge of the distilling world, Richard took on the diploma with his employer's backing.
Based in Diageo's Dublin Technical centre as Quality Manager for West & South Africa, Richard applied for the Diploma examination having noted an increasing focus on spirit and RTD innovation within his role. He sees the IBD Diploma in Distilling as a great way to expand his knowledge in this area and apply it to some of the issues he faces day to day.
Speaking about the recent award, Richard Simpson, Vice Chairman of Simpsons Malt said: "We wish Richard Moxom a huge congratulations for his outstanding achievement. We are very proud of our association with the IBD as we believe that recognising talent within the industry is the best way of developing much-needed skills for the betterment of the brewing and distilling industries.
"There is so much innovation within these sectors right now, which has created some really exciting opportunities for individual brewers and distillers, as well as companies. We wish Richard continued success in his career."
Richard Moxom added: "I would like to thank both the IBD and Simpsons Malt for my award – I am delighted to have claimed the prize. My wife has previously won the Hough Award for highest marks in the Master Brewer exam, so this allows me to catch up to her a bit!"
IBD CEO Dr Jerry Avis concluded: "The IBD is extremely proud of its association with Simpsons Malt as this award provides tangible recognition of outstanding success in the gateway exam to the Diploma.  Great technical knowledge will always underpin the great quality products that comprise the backbone of our industry. I commend Richard for his superb performance and wish him success for his remaining Diploma in Distilling exam."
Want to find out more about a career at Simpsons Malt? Click here! Interested in learning more about our malts? Head over here!