In the past 12 months, global commodities prices have reached an all-time high in the wake of the Russian invasion of Ukraine, which began in February 2022 and remains ongoing at the time of publishing.
Although established corridors allowing for the exportation of grain are showing initial signs of success, a combination of the war in Ukraine, a mixed harvest in Europe, the energy crisis and logistics pressures (transport, freight and insurance) will push malt prices up in 2023.
In this blog, Senior Grain Trader at our agricultural merchanting division McCreath Simpson & Prentice, Mike Dagg, rounds up the 2022 barley harvest in both the UK and overseas and gives a detailed overview of the current market situation.
Barley & malt price rises in 2021 – A recap
In last year's analysis, we spoke about how the price of barley and, consequently, malt, had increased. There were several factors behind this, including:
The lengthy trade dispute between Australia and China. This resulted in China sourcing between 3.5 million and 4 million tonnes of barley from France. This upset the EU supply and demand balance sheet and the price of feed and malting barley within the EU started to climb rapidly.
An increased demand from brewers and distillers as countries came out of COVID-19 restrictions.
Barley being in demand in the animal feed market due to a lower than forecast crop of wheat and corn in 2020. Prices of wheat and corn were pushed up, making barley the cheapest commodity globally.
Many areas suffering poor harvests in 2021, including USA, Canada, Brazil and parts of Europe.
As a result, we predicted back then (November 2021) that we wouldn't see a return to the values of malting barley which were prevalent for harvest 2020 any time soon.
Then, three months later, the war in Ukraine started. This further increased the volatility of the market.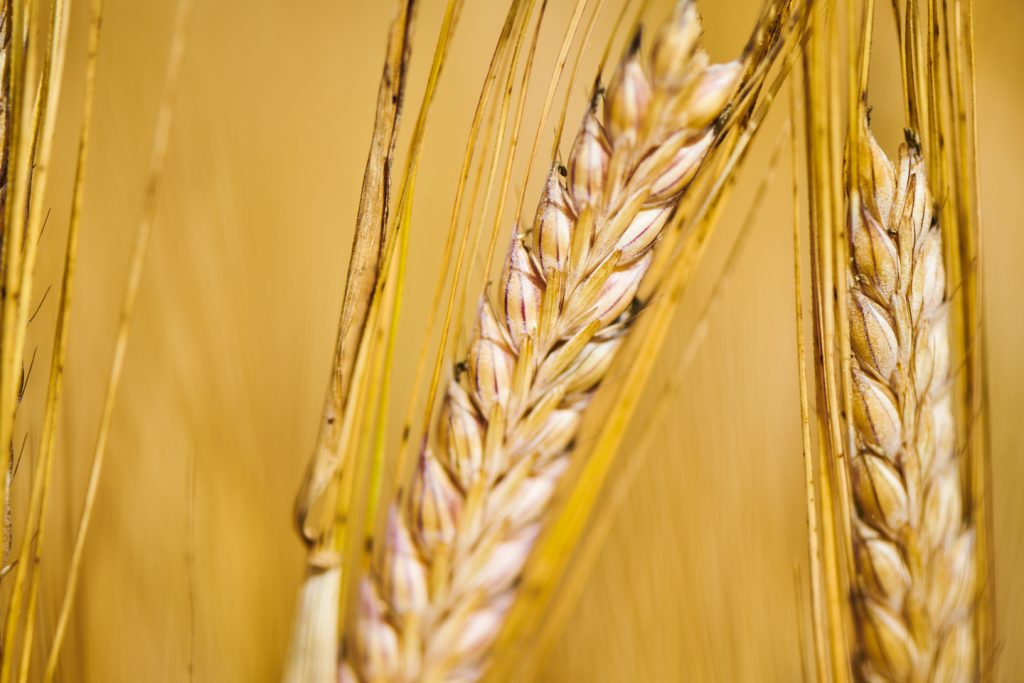 Impact of Ukraine war on barley & malt prices
Between them, Russia and Ukraine account for 85 million tonnes of wheat, corn and barley exports into the global market. To put that into context, the tonnage represents approximately 35% of the global feed grains trade.
So, when Russia started its invasion of Ukraine in February 2022, it placed the whole global food supply chain in jeopardy as exports ground to a halt. Additionally, it is expected that the sowing of spring crops in Ukraine has been down 20-30% year-on-year.
Naturally, the supply and demand balance sheet for global feed grains became imbalanced. Markets reacted with upward momentum in terms of values.
Markets peaked in mid-May 2022 at historic, all-time highs in terms of value. London wheat futures traded at £361.00, compared with £204.55 in mid-May 2021 and £154.90 in mid-May 2020.
With first the talk, and then the implementation of a grain corridor starting on August 1, 2022 – allowing for the safe passage of grain through the Black Sea from Ukrainian ports – values have started to decline. On September 5, 2022, London wheat futures traded at £267.50. This was down almost £100 from May, but still a significant increase on the £188.25 value a year earlier on September 4, 2021.
Fears of a global recession due to energy costs, oil values, inflation and food security also contributed to the decline.
2022 barley harvest UK (winter barley)
Harvest 2022 began in England in early July, some 10–14 days ahead of the average. This was due to above average temperatures in June and early July, which allowed crops to mature at a much brisker pace than normal.
In England, winter barley quality has been good. Crops have produced good quality in terms of nitrogen and retention levels, with yields slightly above the five-year average.
In Scotland, the winter barley harvest has been a little disappointing, with nitrogen levels slightly higher than expected. Retention too has provided us with some issues as the 2.50mm sieve results are averaging some 5.0% higher than normal (i.e average retention = 85% retained through a 2.50 mm sieve). Yield reports from growers have been favourable though, with slightly above average yields.
2022 barley harvest UK (spring barley)
The 2022 spring barley harvest started in England around July 20. In many cases, growers reported the completion of spring barley harvest by the end of July. In general, the spring barley harvest in England produced crops which are more than acceptable for malting with good nitrogen levels and excellent retention.
Overall, yields were above average in most regions. Any issues with quality and yield were confined to areas where there was insufficient rainfall in late spring and early summer. In these cases, the crops did not perform well.
In the north of England and Scotland, the spring barley harvest started in the last few days of July and early August. Like England, favourable weather meant that many growers completed their spring barley harvests by mid-August.
Crops in general have produced ideal nitrogen levels for the distilling market. Yields too have been pleasing for many growers. The consensus is that spring barley yields are above average.
Rain in early September slowed harvest progress in regions that still had spring barley to harvest. This was mostly focused on Aberdeenshire and north across the Moray Firth. However, 90% of the Scottish spring barley harvest was completed by early September.
The primary concern now is the safe delivery of the crop from farm to our network of grain storage sites across the UK. This is a process that will continue until the end of September.
2022 barley harvest EU
In the EU, harvest has been a mixed bag. This is a consequence of mainland Europe experiencing extremely high temperatures for prolonged periods, alongside a serious lack of rainfall.
In France, there are issues in terms of quality and yield. The winter barley harvest was average, producing crops with good nitrogen levels. The spring barley harvest has produced a below average crop with variable nitrogen and retention levels. As a result of this, French production volumes will be down in relation to initial forecasts.
Elsewhere in Europe, quality in Scandinavia is good. Yields are close to the best-ever, especially in Denmark. One could argue that the nitrogen levels in Denmark are too low for brewing, with similar concerns reported from southern Sweden. Nevertheless, both countries will produce an exportable surplus that will be higher than initial trade forecasts.
Germany, Poland and Czech Republic have harvested mixed spring barley crops in 2022. Certain regions within these countries produced good quality crops in terms of nitrogen and retention with acceptable yields. However, other regions produced variable nitrogen levels with below average yields.
2022 barley harvest worldwide
Further afield, Canada is forecast to produce a good malting barley harvest this year and much better than the disaster they endured in 2021. Current forecasts are that Canada will produce a barley crop of 10.0 million tonnes as opposed to 6.9 million tonnes in 2021. Similarly, Argentina is forecast to harvest a barley crop of 5.4 million tonnes vs last year's crop of 5.2 million tonnes.
Australia, though, is forecasting a barley crop of 11.0 million tonnes vs the 2021 production figure of 13.6 million tonnes.
Conclusion
In summary, malting barley prices from 2022 crop harvest have been much higher than in 2021. This will have a knock-on effect in terms of malt pricing for 2023.
However, it's good to know from a UK perspective that we have the quality to complement these higher values following an above average malting barley harvest in terms of quality and yield.
It has been clear in the northern hemisphere that weather patterns can influence market direction. As we approach the completion of harvest, attention will now turn to crop production in the southern hemisphere. Healthy crop production globally is required to meet increasing demand and reduce global reliance on Black Sea supplies.
The Russia and Ukraine conflict will have the largest impact on the direction of future global grain values. A favourable outcome in the conflict would naturally be welcome to all and hopefully remove some market instability. On the other hand, closure of the Black Sea grain corridor will leave grain markets open to further volatility, like what we witnessed in spring 2022.
Overall, we believe markets and malting barley values will remain volatile for the remainder of 2022. We fully expect this to continue to be the case through 2023 and into 2024.
More from Simpsons Malt
We hope you found this article informative! Don't forget to follow us on Facebook, Twitter or Instagram.