Bere barley, pronounced 'bear', is a heritage six-row barley variety. It is said to have been grown in the UK since as far back as the eighth or ninth century, making it the country's oldest cereal in continuous commercial cultivation.
Recently, the barley has enjoyed something of a minor renaissance in the worlds of brewing and distilling as both brewers and distillers look towards increased experimentation with ingredients and production techniques.
The history of Bere Barley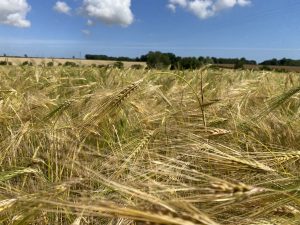 As stated in the intro, bere barley has been grown in the UK for more than 1,000 years – most notably in the Highlands and Islands of Scotland.
It is what is known as a landrace. This is a term given to a species of plant that has developed over time and adapted to its natural and cultural environment.
Bere was grown in large amounts up until the early 20th century. With the development of new barley varieties through plant breeding though, bere – due to its lower yielding capacity – fell largely by the wayside as newer varieties that were more profitable for growers came into use.
It was kept alive by small crofters and farmers in the likes of the Orkney Islands, Shetland Islands, the Western Isles and in the Highlands north of Inverness. In fact, a 19th century mill in the Orkney Islands – Barony Mill – uses only bere barley to this day to make its beremeal flour and is credited for keeping bere in commercial use in the past century. The beremeal flour is used to make bread, biscuits and the traditional beremeal bannock, all sold on the islands.
On the Hebridean isle of Islay, Bruichladdich Distillery also used bere in three iterations of its Bere Barley range of whisky – Bere Barley 2006, Bere Barley 2008 and Bere Barley 2010. In referencing the effect of the barley in a bottle of the Bere Barley 2010 whisky, the tasting notes say: "This ancient grain yet again confirms our barley exploration is based on distillation for flavour not yield. This particular vintage has an intensity and range of flavour I have seldom seen before."
Malting Bere Barley
As well as the malting of bere for the distilling industry since the turn of the 21st century, there has also been a renewed interest in using bere in the brewing industry.
In December 2020, we malted some bere barley for our friends at Newbarns Brewery in Edinburgh.
Although the majority of all bere grown now is done so in the Highlands and Islands of Scotland, the crop of bere malted for Newbarns was actually grown less than five miles from our Tweed Valley Maltings in Berwick-upon-Tweed, but just over the border in Scotland at Paxton South Mains farm.
Explaining how he came to grow bere barley, Paxton South Mains farmer Alex Home Robertson explained: "My dad is into local history and when he read about the historic link between the crop and the county, he was determined to bring bere home to Berwickshire, and he managed to get some seed from the island of North Uist.
"Now we are growing this historic crop at Paxton South Mains again, and I'm delighted that Simpsons are malting our bere in Berwick to supply distillers and brewers with this authentic historic product, with its special Berwickshire flavour."
The malting of the bere barley at our Tweed Valley Maltings did present some challenges for our production team. The bere grains are much smaller and thinner in comparison to other varieties. That even includes Golden Promise, another heritage variety (see image above).
It meant that when it came to placing the grains through our barley screens – this happens to every load of barley that enters the maltings to remove thistle heads, straw etc – we had to adjust our dresser setting to accommodate the small grain size. If we didn't do that, there was every chance the thin grains of bere would've been lost along with the thistle heads and straw during that process.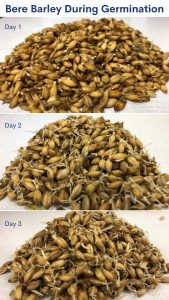 After screening, the bere barley was loaded into one of our large cylindroconical steeping vessels. The barley went through the steeping phase for between one and two days before going through five days of germination in our drums.
Kilning
The kilning phase was then split into two different batches so Newbarns Brewery could experiment with the malted bere barley in two different beers. The first batch was a gentler kilning programme which produced a lager specification for their Helles-style lager. The second batch was kilned at a higher temperature to make a higher colour for pale ale specification for their table beer.
Once the kilning was complete, the batches of malted bere barley were bagged up and delivered to Newbarns, located in the Leith area of Edinburgh, ready for them to brew with.
Overall, it meant that the bere was grown, malted and brewed with all within a 60-mile radius.
Brewing with Bere Malt
In early January 2021, Newbarns Brewery brewed a Helles-style lager with the grist being 100% malted bere barley, called Lager Bere. They followed that up by using the second batch of malted bere barley in their Table Beer.
For the rest of this blog, Co-Founder of Newbarns Brewery, Emma McIntosh, talks about what it was like to brew with the malted bere barley and the impact that the heritage variety had on the two beers.
Emma: "It was really exciting to receive our first delivery of malted bere barley and we couldn't wait to open up a bag and try some. Straight away, you could taste how different it was compared to other varieties we use."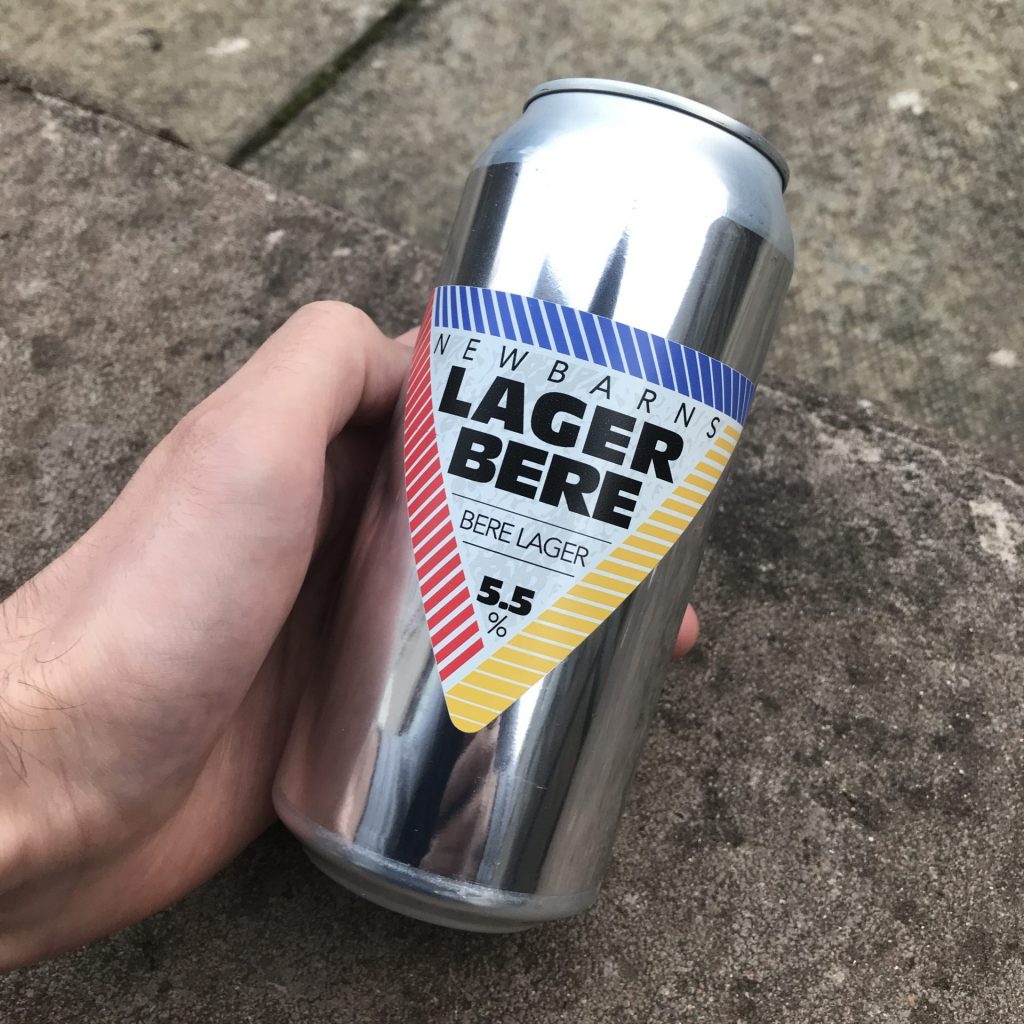 Malted Bere Barley in Lager
Emma: "The brew day was fairly straightforward. The only differences were the amazing aroma in the brewhouse and the fact that we had to tweak our mill as the bere kernels are much smaller than other varieties we use.
"The aroma added to the excitement of the brew as we knew we were making something different. Throughout the fermentation process, the flavour of the beer was mind-blowing. We lagered it for about six weeks, but it tasted so good straight after fermentation that it could have been packaged right away and labelled something else. But we let it do its thing and we were really happy with the results.
"The beer itself still has the aroma from the brew day – it smells delicious. I don't know if it's a characteristic of the bere, or if it's something we did differently on the day, but the raw flavour of the barley is still very prominent in the finished beer. It has a full mouthfeel and the aftertaste is this lovely floral, malty, yet crisp flavour.
"We used a small amount of Admiral hops from Brook House Hops in Hereford to add a little bitterness, which has left it tasting rather moreish. I feel it would go down very well with a packet of pork scratchings on the side!"
Malted Bere Barley in Table Beer
Emma: "We had been keen to use malted bere barley as the base malt in our Table Beer, so we tried out a batch not too long ago and it was really delicious.
"With this brew, we used Mosaic hops, which we already know works really well in low ABV beers. After tasting the Lager Bere, we thought it would be a great match. Upfront, I think the hops overpower the flavour of the bere quite a bit, but after a few sips you can get the vibe of the barley in the aftertaste.
"We'll likely brew another batch of Table Beer using the malted bere barley and probably go for hops that are more mellow."
View this post on Instagram

Passion For Heritage Grains
Emma: "Before we set up Newbarns Brewery, we had already decided that we'd like to try out different heritage grains in our beers. It was after a trip to Bruichladdich on Islay many years ago when I realised that not all barley tasted the same.
"They had a range of whiskies available which showcased barley grown in different places and with different varieties and I thought that was just amazing. With Islay Barley, Bere Barley, Scottish Barley and Organic Barley, immediately I felt I had to try them all and I wanted to learn more about different varieties grown in Scotland.
"We're really proud to be working with Simpsons Malt and it's been such a joy to have had the opportunity to use bere barley so early into our journey as Newbarns Brewery. It's been an exciting start and we can't wait to see what the future brings."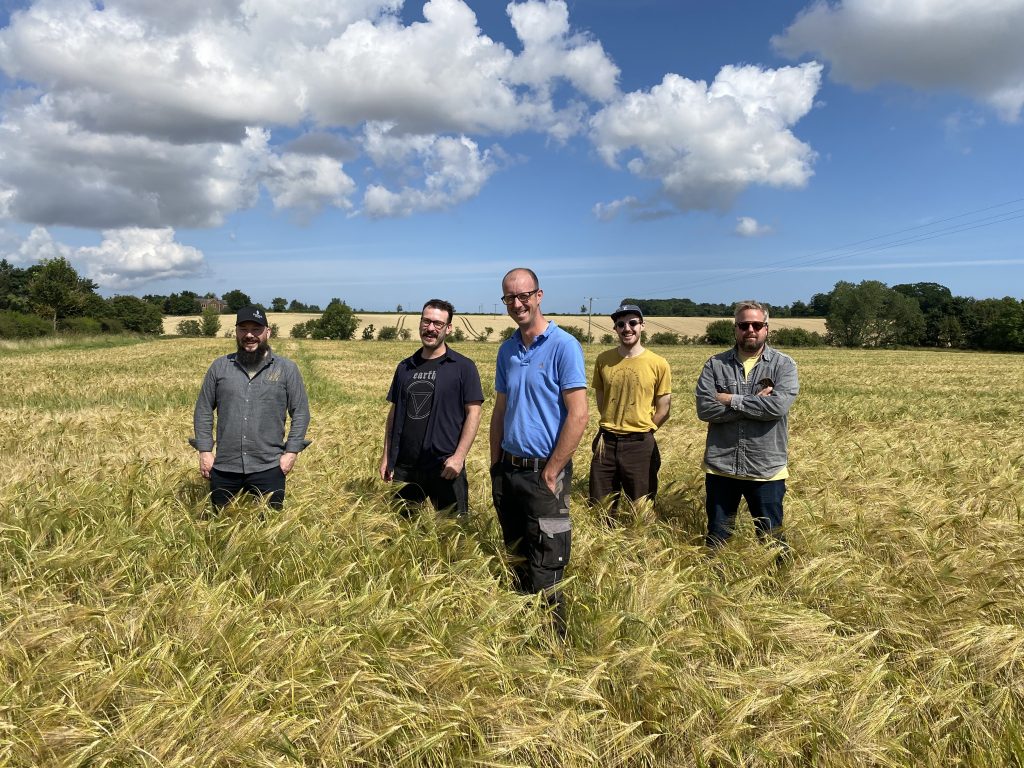 Meeting the Grower
In August 2021, the Newbarns Brewery team visited bere barley grower Alex Home Robertson at Paxton South Mains farm, together with Richard Simpson and Michael Hindhaugh of McCreath Simpson & Prentice.
The visit resulted in knowledge sharing from both sides, with the Newbarns team gaining a greater understanding of bere and how it is grown, while Alex found out more about what impact bere barley has in the brewery and the beer styles it is best suited to.
For more information on Newbarns Brewery, visit the brewery's website here.
More from Simpsons Malt
If you're interested in finding out more about our malts or trying them for yourself, then get in touch with our order office team today or contact us on Facebook, Twitter or Instagram.