Simpsons Malt, the fifth-generation family malting and merchanting business, has reduced net CO2 emissions from its wagons by up to 90% in a matter of weeks after switching its fleet from diesel to HVO fuel.
HVO, or hydrotreated vegetable oil, is a synthetic, paraffinic fuel made from 100% renewable raw materials. It is stable, sustainable and high quality, offering better combustion, filterability and cold temperature resistance than other diesel products.
In January 2021, Simpsons Malt took delivery of a 140,000-litre steel bunded HVO fuel storage tank from provider Crown Oil and, in the weeks that followed, 28 trucks in the company's fleet based out of its Berwick-upon-Tweed headquarters – comprising 21 DAF trucks, six Scania trucks and one MAN truck – have gradually transitioned over to HVO, with additional haulage partners also using the fossil-free fuel for their malt deliveries with the company.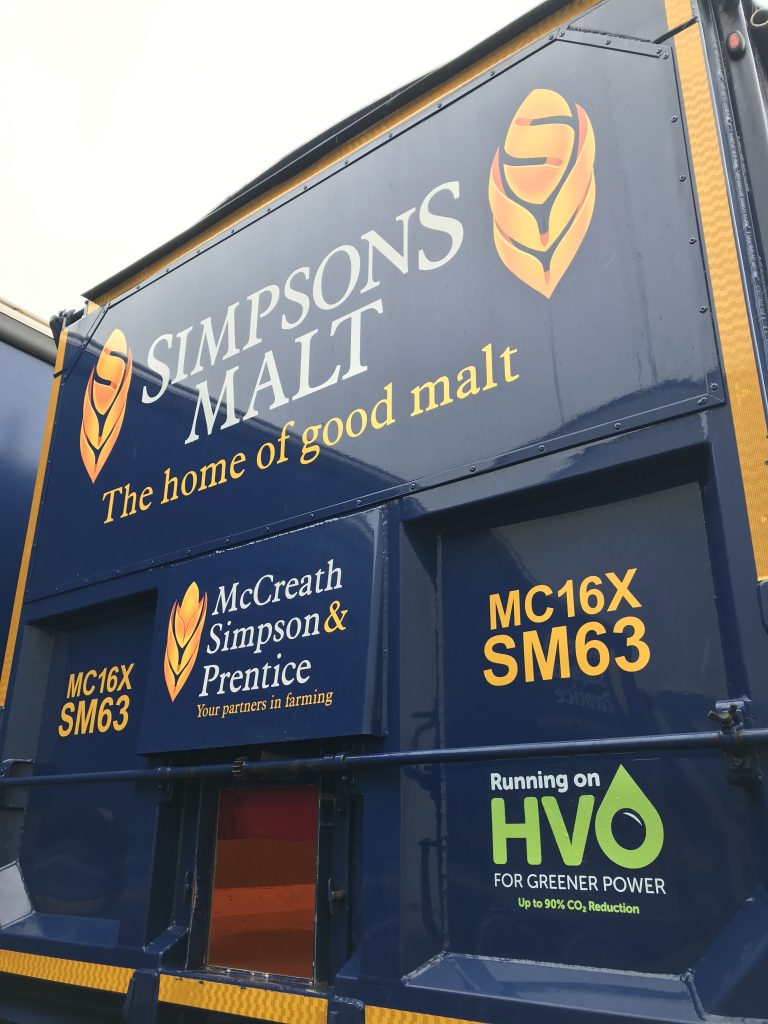 As well as reducing net CO2 emissions by up to 90% – which equates to more than 4,000 tonnes based on litres the company's fleet consumes in a regular year – HVO is also found to reduce NOx (nitrogen oxide) emissions by up to 27% and PM (particulate matter) by up to 84%, with all these key components towards achieving improved air quality. It is the best available technology to do this until electric or hydrogen powered haulage vehicles become viable, which is still a few years away.
To showcase that the wagons are running more sustainably, an HVO logo – designed by Courage Creative Ltd in County Durham – has been applied to the rear of the trailer of each truck.
The switch to HVO marks the completion of another of Simpsons Malt's sustainability objectives and comes hot on the heels of the company assisting all its farming partners who grow malting barley on contract in becoming verified to the SAI Platform's Farm Sustainability Assessment (FSA) to Gold level.
David McCreath, Simpsons Malt Transport Manager, said: "Here at Simpsons Malt, we're passionate in our quest to reduce our carbon footprint and I'm delighted that we've been able to contribute towards this in the Transport Department in switching 28 wagons in our fleet based out of Berwick-upon-Tweed to HVO, significantly reducing the level of harmful emissions we produce.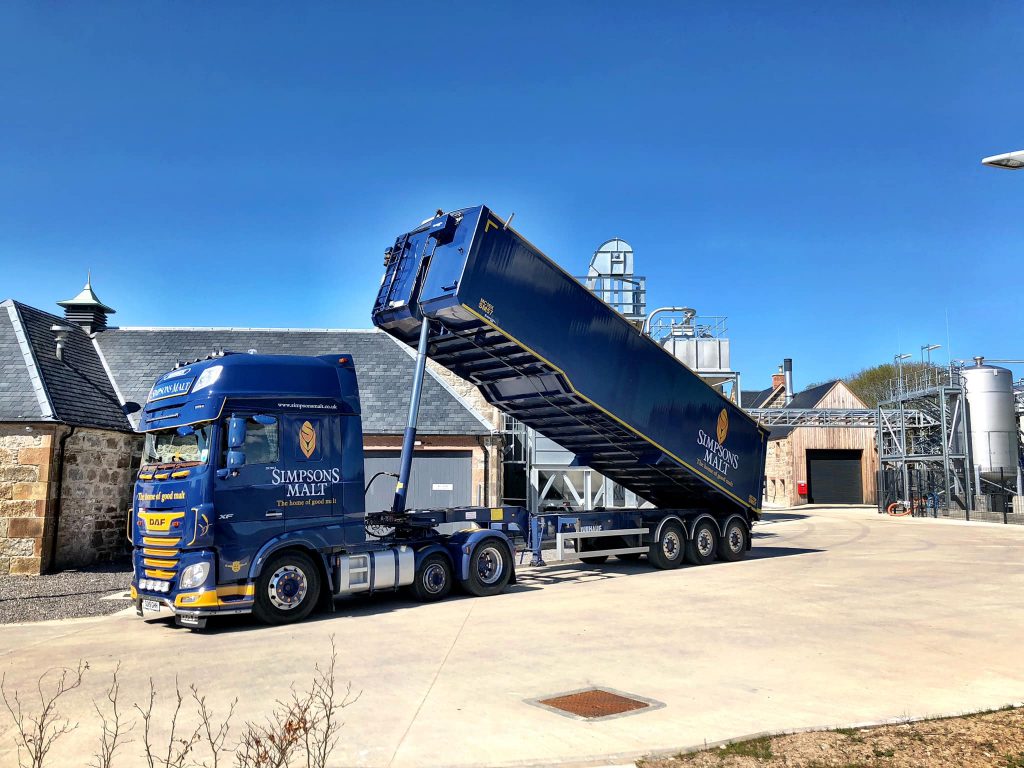 "In the five months our wagons have been running on HVO, we have been very impressed with the performance, with no change in the miles per gallon of the vehicles, while refueling has also been made simple through our on-site HVO tank supplied and regularly restocked by Crown Oil."
Simon Lawford, Crown Oil Technical Sales Manager, added: "The proven benefits of using HVO are extensive both practically and environmentally. We are thrilled that Simpsons Malt is already seeing the value of using this more sustainable, fossil-free fuel and hope this is the beginning of a longstanding relationship.
"The credentials of HVO are being increasingly noted, which has been proven by a more than 100% increase in UK uptake in the last year and, at Crown Oil, we are proud to be one of the UK's leading distributors of this advanced renewable fuel."
For more information on our sustainability efforts, visit our dedicated Sustainability page HERE.